WWE Recap: No Audience, No Problem?
WWE refuses to tap to COVID-19 for another week of closed off shows
This week was the most excited I've been for WWE programming in arguably forever. After last weeks SmackDown, which held my attention for two full hours as these men and women played to an imaginary audience based off muscle memory alone, I couldn't wait to see what WWE was going to do with their shows this week. This audience-less version of wrestling has played out like a Beckett production, where half of me wants to tear my hair out and half of me thinks this is the funniest thing ever created. But does the novelty of empty arena shows hold up this week?
Man vs Snake
The former star of Syfy's Haven started the show on Monday night by calling out Randy Orton. After an incredible Rumble return that still brings tears to my eyes, Orton put Edge out of commission last month with a brutal chair attack and even delivered an RKO to his wife Beth Phoenix last week, so now things have officially gone too far. Edge is a phenomenal talker and didn't seem hindered without a crowd to feed off of as he laid out his history with Orton, talking about how Mick Foley helped teach both of them. He said that despite what Randy had claimed, the Viper acted out because he was jealous of Edge and his ability to make a return to the ring after everything he'd gone through. Edge then challenged Orton to a Last Man Standing match at Mania. With the intense history between these men this should be really good, especially considering they have a whole medium sized gym to fight through, and no one will even be there to get in their way.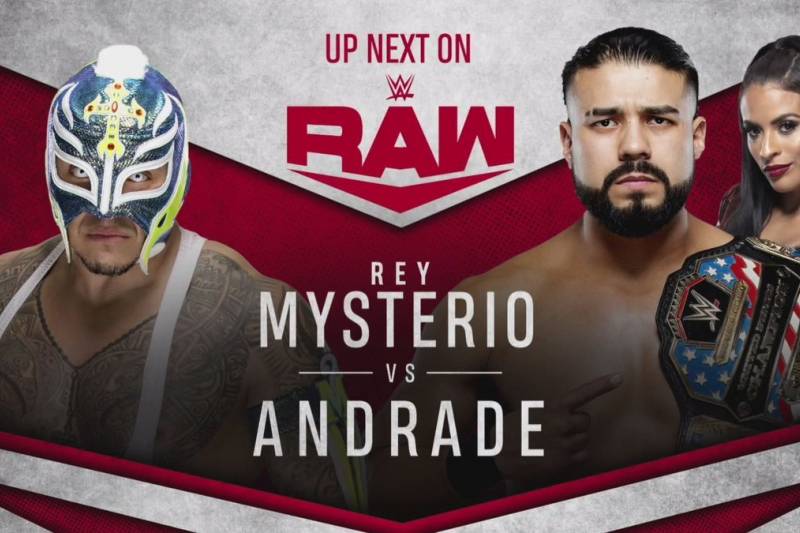 Andrade Fan Club Makes Some Noise
US Champion Andrade and Rey Mysterio had yet another rematch this week, this time without the title on the line. There wasn't much narrative sense to it but at least it was fresher than showing the entire men's rumble match. Andrade and Mysterio have such good chemistry they could put on something entertaining in their sleep, but the best part of this match may have been Asuka joining the commentary booth. She spoke mostly in Japanese, save for loudly cheering for Andrade, which is a partnership I now desperately need in my life. Mysterio won after countering Andrade's Three Amigos into the 619 and a splash, while Asuka lamented painfully over her man's loss. Now that's some heel commentating; Corey Graves eat your heart out.
Ghosts of a Hell Yeah
Monday was 3/16 on the calendar, which meant an appearance from the Texas Rattlesnake himself. Without an audience to parrot "what" every three seconds, one might think Austin would fare well giving a promo about drinking beer and killing your boss, two things that are high on the minds of most Americans right now. But the lack of crowd energy sadly hampered the Hall of Famer's promo, although a cut to the empty chairs after Austin requested a hell yeah was one of the funniest parts of the night. After giving a stunner to professional cannon fodder Byron Saxton, Austin was joined in the ring by Becky Lynch. The two toasted to a working class revolution and chugged some IPAs. Lynch, who arrived to the PC earlier in the night in a truck with her face on it, is as over as ever, and WWE's eagerness to put her in segments with legends continues to cement her status.
Bottle Episode
NXT took a different approach this week, offering interviews and clips in place of silent wrestling in an empty gym. The first promo was spent on the feud between Tommaso Ciampa and Johnny Gargano, who are still fighting because time is a cyclical thing. Ciampa threatened that the two might actually have to fight forever this time around, which is maybe the scariest thing a wrestler has ever said. Another package covered Finn Balor's return to NXT and transformation back into The Prinxe. Balor talked about feeling unsatisfied by his work on Raw and SmackDown, and how he came back to NXT to feel passion for wrestling again. The final segment was devoted to hyping Charlotte Flair vs Rhea Ripley at mania. Ripley gave an interview saying she was different from Lynch, Bayley, and the other members of the women's division, and she would be pinning Charlotte at Mania. I'm still very psyched for that match, even if it should by all accounts include Bianca Belair as well. Doing a clip show during this time certainly isn't a bad idea, and it's probably the format WWE will have to transition to depending how long this lasts, but it's more entertaining when it shows us something new.
The Gronk is Here
In my humble opinion, no one has embraced working to zero crowd like Mojo Rawley. After losing his mind on commentary last week and demanding Michael Cole get hype while smacking the man in the chest, he was operating at the same level this week as he excitedly announced his best friend, Rob Gronkowski, as the host of this years WrestleMania. Let me be clear; a two night event, held in the PC, in front of no one, and hosted by Gronk sounds like the greatest thing that's ever happened to wrestling, and also the birthplace of the demon that stands at the foot of my bed and tells me when I'm going to die. King Corbin interrupted the two friends dance party to talk about how football is a silly fake sport, but the guys played Mojo is a table and knocked Corbin over. Elias came out to join in the fun, and Gronk suggested a match between the drifter and Corbin at Mania.
[British Accent] Baby Girls
Paige Skyped in to SmackDown to give an interview, the same format I'm using for most of my dates for the next five weeks. Before she even got started, Bayley and Sasha Banks came out to interrupt. They took credit for the entire women's division and told Paige there was no one left that Bayley hadn't beaten. Paige, who I guess has the authority to make matches again, announced Bayley would be facing Lacey Evans at mania. The role model laughed that one off, so she added Dana Brooke to the mix. Then Tamina, Naomi, and even Sasha herself. That's right, it's a six pack challenge, because even though mania is two nights long, we still have to shove all the women into one match. Bayley was shocked, while Sasha gave the tiniest smile. Trouble in paradise. The story is, of course, between the two of them and their relationship, hopefully leading to that long awaited singles match down the line. But they've teased us with it so many times that I can't quite trust them to pull it off now. Either way, with Banks and Naomi in the match we'll definitely get some great spots, and since Mania is spread out over two nights, hopefully this match will be long enough to let each woman shine.
Big Dogs and Big Dads
Turns out contract signings, possibly more than matches themselves, definitely need some audience interaction to feel interesting. Both men came out hot for this, with Goldberg following in the Undertaker's footsteps and giving the shortest entrance of his life. The two then executed tandem chair tosses to show just how pissed they were. Goldberg flipped the table and called Reigns a bitch, but without the crowd to pretend it was the worst curse word they'd ever heard, the insult fell flat. Despite how riled up they seemed, both men signed the contract and ended the segment with a very close stare down that definitely broke safety guidelines. Kind of weird that we didn't get any kind of a fight, but I guess Goldberg has to save his strength to put his head through the front door of the Performance Center.
Whose House?
It's an interesting time when 205 Live gets wrestling and NXT doesn't, but it featured Oney Lorcan, so I'm certainly not complaining. Lorcan faced Isaiah Swerve Scott in the main event, even wearing purple gear to show his support of WWE's underappreciated brand. The two were fairly evenly matched here, with Scott using his quickness and agility to try to keep from getting grounded by Lorcan. Lorcan managed some incredible uppercuts and a flurry of offense, even kicking out of a flatliner, but it was Scott who got the win with a stomp. Swerve has had a very solid run on 205 and NXT, and I wouldn't be surprised to see him challenge for the cruiserweight title again sometime very soon.