What Wrestling Should You Watch This Week? (July 13, 2020)
Wednesday 7/15: DDT Pro Wrestling Summer Itaba Series
(Streams at 5AM EDT on Wrestling Universe.)
This show is one of the last DDT shows before their 7/23 Summer Vacation show at Korakuen Hall. Understandably, many of these matches feature wrestlers trying to either build momentum toward that show or get in some scouting work on their Korakuen opponents. Yuki Ueno faces off against Tetsuya Endo for the last time before their KO-D Openweight match at Summer Vacation. This match has Ueno tagging with his Disaster Box partners HARASHIMA and Kazuki Hirata vs. Endo and his DAMNATION compatriots Daisuke Sasaki and Soma Takao. Saki Akai and Kazusada Higuchi try to get some scouting in on Antonio Honda, tagging here with Keigo Nakamura. Akai and Higuchi's Eruption trio will face Honda along with Riho and HARASHIMA on the upcoming show.
In the momentum department, Seigo Tachibana continues his series of Road to the Top matches to prove his place in DDT, this time against the incredibly dangerous Yukio Sakiguchi. Also of note is a 3-way match between Chris Brookes, Akito and Mad Paulie, as well as a singles match between Konosuke Takeshita and Yukio Naya. — Nigel Spudes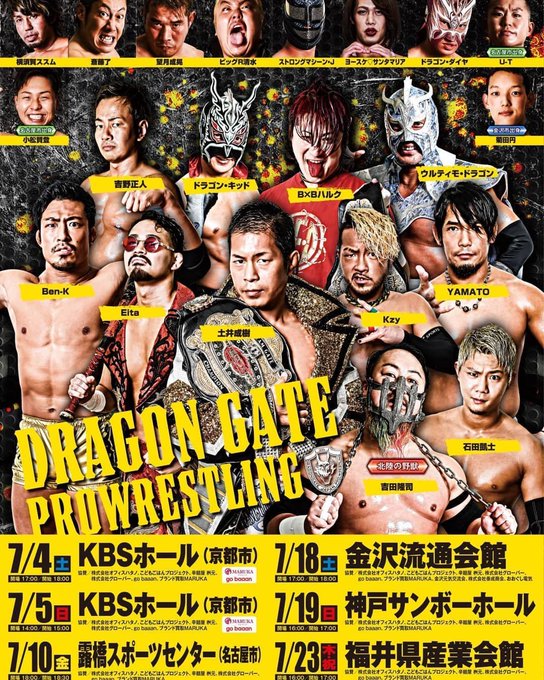 Wednesday 7/15: Dragon Gate Hopeful Gate Night 5
(Airs live at 5:30M EDT on the Dragon Gate Network.)
Wrestling with crowds (and a number of necessary precautions) is back in full swing in Japan following the COVID-19 shutdown. Dragon Gate celebrates with this return to Korakuen Hall. Dragon Gate has been touring the Hopeful Gate series with fans in attendance all this month, and among Japan's many wrestling promotions, it's been made clear that they're one of the promotions that benefit most from a live audience. There is a joy and energy to the well-worn (and well-loved) spots that dot the first half of a Dragon Gate card, as well as the customary opening promos and child-assisted ringing of the opening bell, that can't be conveyed in a no-fans setting.
The lineup for this show seems to echo that, as it's heavy on multi-man matches, but in a way that suggests wanting to make sure all of the fans' favorite characters are represented rather than that the show is less important. The main event sees the divided Dragon Gate and Toryumon factions facing off in an eight-man match, with YAMATO, KAI, Ben-K & Strong Machine J against Masato Yoshino, Dragon Kid, Susumu Yokosuka & Shuji Kondo. Further down the card, the Toryumon and Dragon Gate factions face the R.E.D. heel faction in a series of matchups. Naruki Doi & Ryo Saito take on Eita & BxBx Hulk, Keisuke Okuda & Dragon Dia go up against Kaito Ishida and H.Y.O. in what may be the workrate favorite of the night, and returning Toryumon patriarch Ultimo Dragon teams with Don Fujii & Kagetora vs. Takashi Yoshida, Diamante & Kazma Sakamoto. — Nigel Spudes
Sunday 7/19: WWE Extreme Rules
(Streams live at 6:30 PM EDT on the WWE Network)
Okay so, Coronavirus cases are on the rise in both Florida and literally in the WWE itself. It's with a heavy heart that I say I am nevertheless looking forward to Extreme Rules? Or Horror Show at Extreme Rules? I mean, okay, look at this graphic. Asuka versus Sasha Banks? I can't resist that. Also, have you heard the stipulation for Seth Rollins and Rey Mysterio Jr's match? Eye for an Eye? They're going to CGI someone's eyeball out? Or else I'm going to be furious and call the uh… not the police. Someone else. I'm going to call and complain though. Anyways there's also something called a Swamp Fight between Bray Wyatt and Braun Strowman? It sounds really stupid. Can't wait. It's such a bad idea though that companies in the US are still doing shows. People are literally dying. We live in a hell of our own making.— LB Hunktears
Nothing from January 15, 2021 to February 15, 2021.