What Wrestling Should You Watch This Week (3/23/20)
Except for in WWE and AEW, new wrestling in the Americas seems to be more or less off the table. On the other side of the Pacific, though, most of the Japanese promotions are back at it this week with a few live streaming shows and a whole bunch of things from the weekend. One thing we missed last week was Dragon Gate's Sunday show, which you can still watch for free on their YouTube. If you're new to the promotion, definitely check out Emily Pratt's primer on getting into Dragon Gate to get you started.
More Pro Wrestling:
All Japan Pro Wrestling Power Dream Series (Monday 3/23)
(Streams live on AJPW TV)
All Japan Pro Wrestling comes back to operation after nearly a month away with a big show from Korakuen Hall. Three titles will be defended on the show, the first of which sees Dragon Gate's Susumu Yokosuka looks for his third defense of All Japan's Junior Heavyweight Title against Izanagi.
Next, Jake Lee & Koji Iwamoto of Sweeper look to defend the All Asia Tag Team Titles against Yankee Two Kenju, the deceptively versatile team of wrestlers Isami Kodaka & Yuka Miyamoto. They both wrestle regularly in deathmatches for Freedoms and Big Japan, but also show a huge degree of skill in traditional matches in their respective home promotions of BASARA and 666. There's a huge amount of talent in this one, which may be a sleeper Match of the Night contender.
Finally, the main event sees Kento Miyahara putting up the Triple Crown Title for his 11th defense against Suwama, one of half of the current World Tag Team champions the Violent Giants. As his tag team's name suggests, Suwama hits hard, and this should be one violent title match. It remains to be seen whether Miyahara leaves the ring with the title in hand after this one. —Nigel Spudes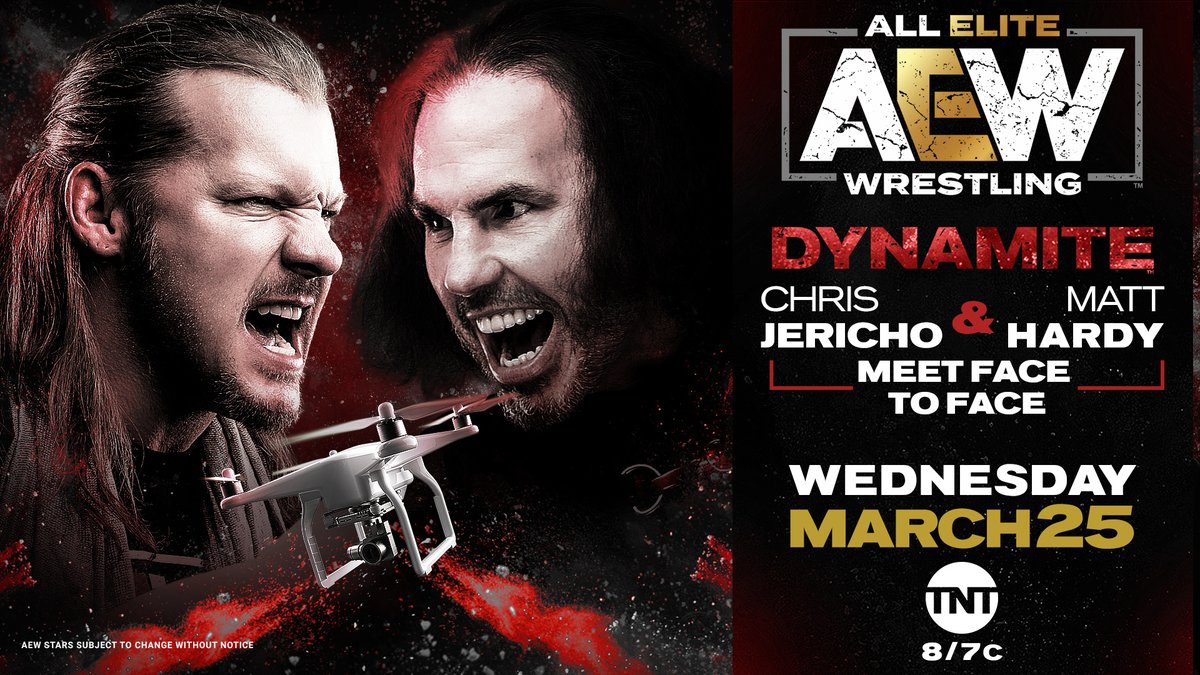 AEW Dark & Dynamite (Tuesday 3/24, Wednesday 3/25)
(Streams on YouTube at 7PM EDT, Airs on TNT at 8PM)
While I'm not wildly enthused about most of what looks to be on the docket for Dark, Sonny Kiss teaming with Joey Janela has the potential for some incredible energy. It's maybe a little irresponsible though? That's a team that will put Jim Cornette in the hospital with a heart attack, and our nation's hospitals are already very overwhelmed.
On Dynamite proper, in lieu of the Blood and Guts match, which has been postponed, Kenny Omega is defending the AAA Mega Championship against Sammy Guevara. The Best Friends take on the Lucha Bros in a parking lot match. This should be good? I'm still worried about my favorites getting sick from all this traveling and touching each other, which really stresses me out to watch, but maybe these matches will be good enough that I'll forget to have a bad time about that. Also Chris Jericho and Matt Hardy will have a conversation I guess. I like that graphic a lot because they're making essentially the same face and the eyelines don't match. —Hunktears
Hiragana Muscle 2 (Thursday 3/26)
(Streams live on DDT Universe at 5:30AM EDT)
As resident DDT expert Sarah Kurchak pointed out, the first Hiragana Muscle show in January was a resounding triumph. Details have yet to come out about the second incarnation of the show, but there will definitely be more comedy bullshit, wrestling bullshit, and other delightful bullshit that we can expect from a DDT gimmick show. It streams live but at an absurd time where I won't be awake. I'll put it on while I'm working once I wake up I guess.— Hunktears
SEAdLINNNG NEW LEAF! (Friday 3/27)
(Streams on Nico Pro at 8AM EDT)
If you just followed what people on the Internet are saying about this show, all you'd know about is its especially meager ticket sales. It drew an especially low number of fans for a show held in Korakuen Hall, since it was held on 3/10/2020 in Japan, when most other shows were postponed due to the COVID-19 outbreak.
That fact (and the questionable choice to hold the show at all) aside, the card has a main event I've been eager to see since the show was announced. Arisa Nakajima looks to make her third title defense against Rina Yamashita, a freelancer who's quickly become one of favorite wrestlers to watch (if you're unfamiliar with Yamashita, watch her DDT match from earlier this year against Saki Akai or her Pure-J match from last year against Hanako Nakamori.) Elsewhere on the card, the ever-in-demand freelancer Hiroyo Matsumoto teams up with Syuri in a tag team match against Miyuki Takase from Actwres girl'Z and freelancer Ryo Mizunami, both members of the SEAdLINNNG faction MAX VOLTAGE. —Nigel Spudes
Full Streaming Schedule
(Times in EDT)
** = Recommended
†= Pretaped
🆓= Free to Watch Without a Subscription or TV Service