What Wrestling Should You Watch This Week (3/2/20)
Ed. Note: Daylight Savings Time starts on Sunday March 8 in the United States, but it won't start in Mexico for another month. Please pray for Fanfyte in our efforts to try to get event times correct in this trying period.
It's a weird week for wrestling, as many Japanese companies have either canceled their shows or turned them into no-people shows. So we really recommend checking out some of the stuff that's airing after the fact on NicoPro if you're looking to try something new. Also, wXw's huge tournament 16 Carat Gold is this weekend in Oberhausen, with some absolutely killer looking matches, but I don't believe it streams live and am not sure when the shows will be available on wXw Now.
More Pro Wrestling:
Monday 3/2: Asuka vs Shayna Baszler on Monday Night Raw 
(Airs live on the USA Network at 8PM EST)
I just want to make it clear that I am not recommending that you watch all three hours of Monday Night Raw tonight. I'm not a monster. That said, Asuka, who, let's be real, is one of the best and most fully-realized wrestlers in the world, who spits poison mist in people's faces, is an in-ring genius, and has my favorite channel on YouTube, is wrestling Shayna Baszler, the two time NXT Women's Champion who bit Becky Lynch on the back of the neck for unclear reasons as a Wrestlemania challenge. Asuka and Shayna Baszler. In one match. Together. Wrestling. Live on cable television. You could watch this at your local Applebees. That's beautiful to me. Ideally WWE will just start putting out a compilation episode of all their women's matches, so I personally can pretend it's a joshi company, but until then, let's just watch this match.—LB Hunktears
Tuesday 3/3: Sendai Girls
(Streams at 8AM EST on Nico Pro.)
It's no secret that Sendai Girls is home to some of Japan's best women wrestlers in Dash Chisako, Chihiro Hashimoto and the legend Meiko Satomura. Yet because of their small roster, some of their shows can feel same-y despite the obvious talent on display. Not so with this show, which features several new and returning faces that shake up the normal formula considerably. It also serves as the promotion's farewell to Stardom's Kagetsu, who is set to retire this week and was originally trained in the Sendai Girls dojo. Pure-J's Rydeen Hagane, a 28-year-old who sports an old-school joshi aesthetic, complete with mohawk and facepaint, faces Sendai Girls regular Sakura Hirota in what should be an entertaining comedy match. In the semi-main, Meiko Satomura & Dash Chisako meet up against Tokyo Joshi Pro regular Natsumi Maki & Sareee. This is a never-before-seen matchup that I'm extremely excited for. The main event sees Sendai Girls champ Chihiro Hashimoto vs. Kagetsu. While the two have met before in a fantastic 2018 tag match, which saw Hashimoto & Dash Chisako face Kagetsu & Hazuki, this will be their first (and sadly last) singles match. Kagetsu has been leaving everything on the mat in the matches on her retirement tour, and Chihiro Hashimoto has a habit of leaving pieces of her opponents on the mat, so this is going to be one to watch.— Nigel Spudes
Kagetsu's retirement tour stop at Sendai Girls is going to be a moving one for sure. Even if this was just a regular singles match between her and fellow Satomura-mentee Chihiro Hashimoto, I would strongly recommend it. As one of her last matches ever, though? It's a can't miss.— LB Hunktears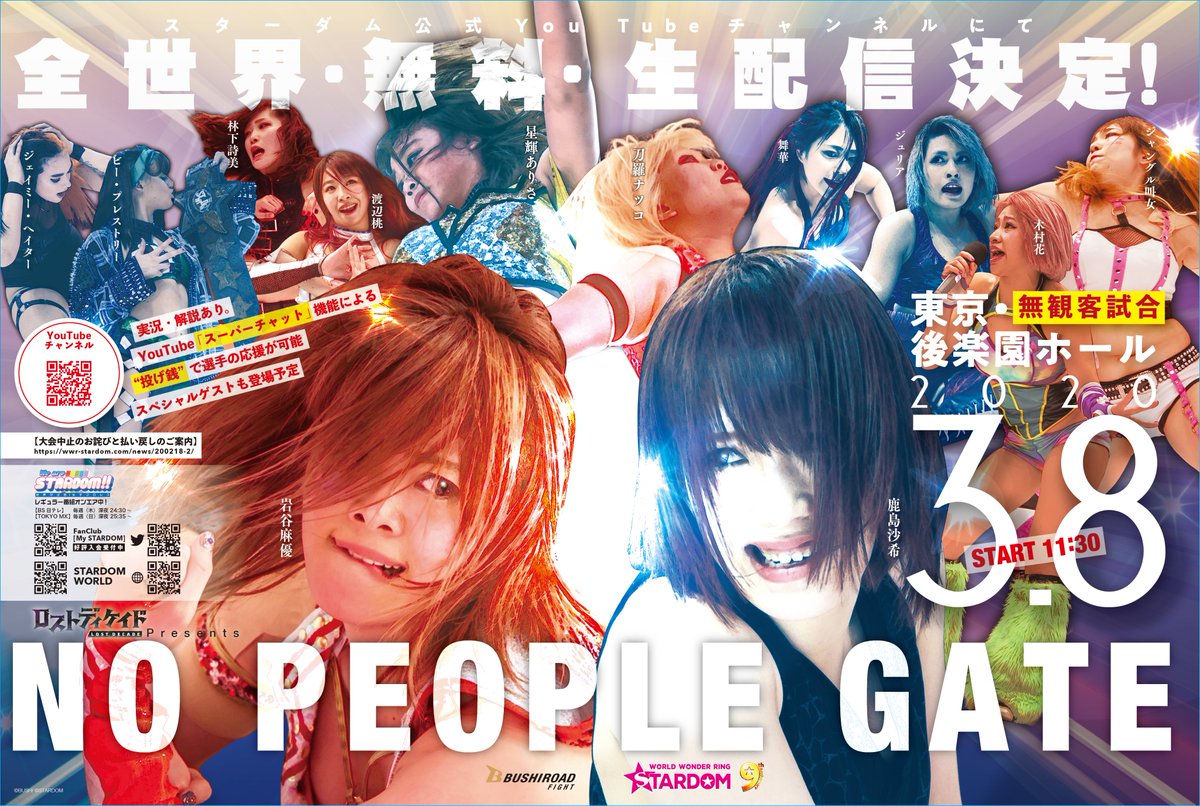 Saturday 3/7: Stardom No People Gate
(Streams live at 9:30 PM EST on Stardom's YouTube.)
This was meant to be a normal Stardom Korakuen Hall show. With the public health crisis of the Coronavirus (COVID-19) moving into Japan, however, all Stardom live shows were canceled. But rather than shut down completely for a few weeks, Stardom chose to keep their booking at Korakuen Hall, and air another show in the place of the canceled one with no fans in the venue. Thus, No People Gate. In true big show fashion, the opener will be a Rumble-style Battle Royal. Then Hana Kimura teams with Jungle Kyona as her Tokyo Cyber Squad faction faces Giulia & Maika, representing Giulia's newly formed Donna del Mondo faction (which has been hilariously misnamed in promos by other roster members as "Donna del Voldemort" and "Donna del al Dente".) In the semi-main, Arisa Hoshiki defends her Wonder of Stardom title against Natsuko Tora, and the main event sees Mayu Iwatani square off against Saki Kashima in a non-title match.— Nigel Spudes
Sunday 3/8: WWE Elimination Chamber
Wrestlers in tubes! Full card preview to come later in the week.
Full Streaming Schedule
(Times Monday-Saturday EST, Sunday in EDT)
| | | | | | | |
| --- | --- | --- | --- | --- | --- | --- |
| Monday, 3/2 | Tuesday, 3/3 | Wednesday, 3/4 | Thursday, 3/5 | Friday, 3/6 | Saturday, 3/7 | Sunday, 3/8 |
| Pro Wrestling NOAH N-1 Victory 2019 (DDT Universe 4AM EST)† | DDT UNIVERSE LIVE! Wan Chang Tuesday (DDT Universe 5AM EST) | Pro Wrestling NOAH N-1 Victory 2019 Night 9 (DDT Universe 4AM EST)† | Pro Wrestling NOAH Global Tag League 2019 (DDT Universe 4AM EST)† | Brii Combination Wrestling Queen of the North 2 (FITE 8PM EST, $9.99) | DDT UNIVERSE LIVE! Wan Chang Saturday (DDT Universe 3AM EST) | CMLL Arena Mexico (Mexiquense TV 2PM EDT)† |
| Asuka Pro Wrestling (Nico Pro 5AM EST)† | FREEDOMS The Hot Free People 2020 (Nico Pro 5AM EST)† | AEW Dynamite (TNT 8PM) | Machida Pro Wrestling Festival (Nico Pro 6AM EST)† | WWE SmackDown (Fox 8PM EST) | Pro Wrestling EVE Women Behaving Badly (FITE 3PM EST, $9.99) | WWE Elimination Chamber (WWE Network 7PM EDT) |
| ROH Episode #441 (FITE 7PM EST)† | Sendai Girls 2/16/20 (Nico Pro 8AM EST)†** | WWE NXT (USA 8PM) | WWE NXT UK (WWE Network 3PM EST) | Freelance Wrestling Lucky Punks (IWTV 9PM EST) | Prime Time Pro Wrestling Butch vs Gore (IWTV 8PM EST) | RevPro Lethal Weapon (RPW OnDemand)ⱽᴼᴰ |
| WWE Raw (USA 8PM) | NWA Powerrr (NWA YouTube 6:05PM EST)† | | +Lucha and Chill (Más Lucha YouTube 10:30PM)† | CMLL Arena Mexico (CMLL YouTube 9:30PM EST) | AAA Nacemos Para Luchar (AAA Twitch 9PM EST) | |
| CMLL Arena Puebla (CMLL YouTube 10PM EST) | AEW Dark (AEW YouTube 7PM EST)† | | | WWE 205 Live (WWE Network 10PM EST) | Stardom No People Gate (9:30PM EST Stardom YouTube)** | |
| MLW Fusion #99 (MLW YouTube)† | IMPACT! (AXS, 8PM EST)† | | | | RevPro Risky Business 2020 (RPW OnDemand)ⱽᴼᴰ | |
| | CMLL Arena Mexico (CMLL YouTube 8:30PM EST) | | | | RevPro She's All That 2020 (RPW OnDemand)ⱽᴼᴰ | |
** = Recommended
†= Pretaped
ⱽᴼᴰ= Will be made available online at some point after the show