It's a pandemic baby! Aside from AEW and WWE continuing to run limited versions of their weekly shows, there's not a lot of new wrestling happening this week. Still, that isn't stopping streaming services like IWTV from reaching into the vault for stuff to play all day long, entertaining people through this moment of social distancing. DDT Universe is doing something similar, with old shows that have been available on Universe becoming free to stream all this week. (I've excluded them from the spreadsheet schedule but you can check out the list below.)
[DDT UNIVERSE FreeStream!]

Updated list of 20 Free shows on DDT UNIVERSE:
– added release dates
– added Pool Pro-Wrestling show which I forgot to add to original listhttps://t.co/REywWi18En#ddtpro#DDTUNIVERSE pic.twitter.com/xrO4ebH4xf

— DDT/TJPW English Update (D/TEU) (@ddtpro_eng) March 12, 2020
As my esteemed colleague Colette Arrand pointed out yesterday, there's a lot of problems even with the no audience model of putting on wrestling shows, but I'm going to ignore all of that and say hey, here's what you can watch this week.
More Pro Wrestling:
Wrestletalk Showcase No Fans Monday (Monday 3/16)
(Streams live on YouTube at 3PM EDT)
I'm not history's biggest Will Ospreay fan, but I have to commend the guy for putting something together with such little notice. The balance between saying "hey there shouldn't be wrestling right now, even no audience stuff" and wanting to help out workers on the independents who are losing tons of bookings is a difficult one, but I also just enjoy wrestling, and this looks like a cool, free way to see what's going on in the UK.
WWE (Monday 3/16, Wednesday 3/18, Friday 3/20)
(Airs live on the USA Network at 8PM)
I'm not saying you should watch WWE, but there's something kind of bizarre and fascinating about the stilted way they're handling these no audience shows. Smackdown last week was an awkward fever dream. While I'm genuinely excited about something like Candice Lerae wrestling Mercedes Martinez on Wednesday, it's Stone Cold Steve Austin celebrating 3/16 in front of no audience and Goldberg showing up in the WWE Performance Center that I'm weirdly the most curious about.
NWA Powerrr (Tuesday 3/17)
(Streams on YouTube at 6:05PM EDT)
NWA has announced they are canceling upcoming April events, including the Crockett Cup PPV, which their Powerrr matches have all been building to. Companies like NWA and IMPACT! who film their episodes well in advance of airing have something of an advantage here, in that they have content to air where livestreaming companies don't. In another sense, they're also at a disadvantage, as events can change the context of things they've already filmed. It's unclear how much NWA has in the can, but it will be interesting to see how they deal with this.
AEW Dark & Dynamite (Tuesday 3/17, Wednesday 3/18)
(Streams on YouTube at 7PM EDT, Airs on TNT at 8PM)
AEW is cautiously continuing their TV schedule by moving to "closed set locations with essential personnel only." The matches on Dark (The Hybrid 2 vs Michael Nakazawa & Brandon Cutler, Riho vs Penelope Ford, Peter Avalon vs Colt Cabana, and Christopher Daniels vs Stu Grayson) don't look amazing, but it's AEW's last piece of audiencey wrestling for the foreseeable future.
Dynamite is set to be at Daily's Place, where they had Fight for the Fallen. It's part of the Jacksonville Jaguars' practice facility, I think, so they have access to it. This card actually looks pretty tight so far, with Best Friends facing off against the Lucha Bros, something I love to see with my human eyes.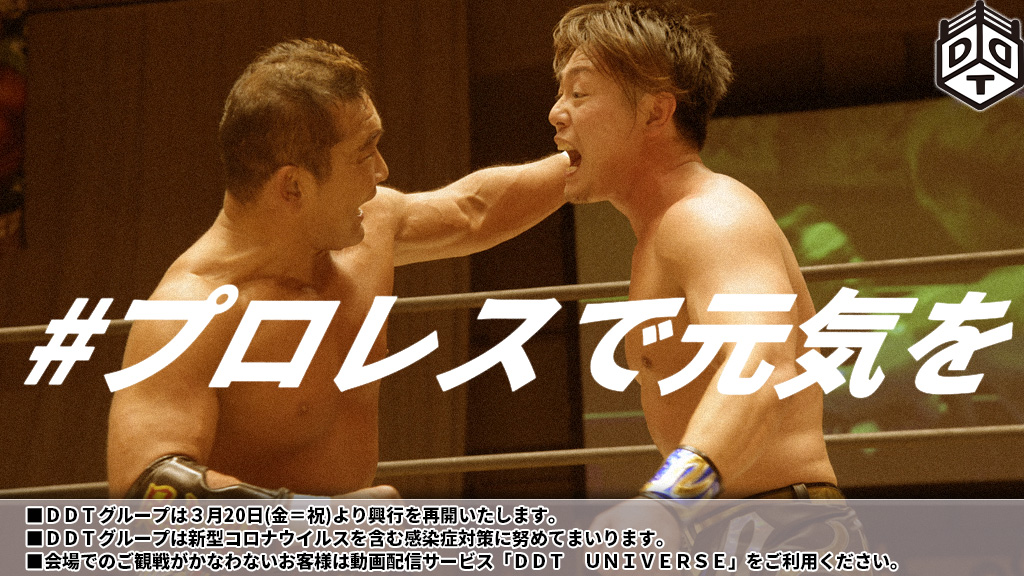 DDT Judgement2020 (Thursday 3/19)
(Streams live on DDT Universe at 10PM EDT)
The only wrestling show that I'm aware of that is running this week with an audience is DDT's 23rd anniversary event. Which is honestly fucking bonkers to me. I'm trying to not get too opiniony about what companies should do, but like… what? Cases are on the rise in Japan, so this seems wildly irresponsible? It's looking like a fun show, too, with Takeshita challenging Tanaka for the KO-D OPENWEIGHT Championship, Daisuke Sasaki challenging Chris Brookes for the DDT UNIVERSAL Champiosnhip, a delayed time admission battle royal for the Iron Man Heavy Metal Championship (always a treat), and multiple fun looking tag matches. #STRONGHEARTS are there! DAMNATION is there! ERUPTION is there! All my favorites… but I'm kind of hoping it gets canceled? For the sake of health and safety? Fuck.
Update: Two Live No Audience Shows Have Been Scheduled Since This Article Was Posted!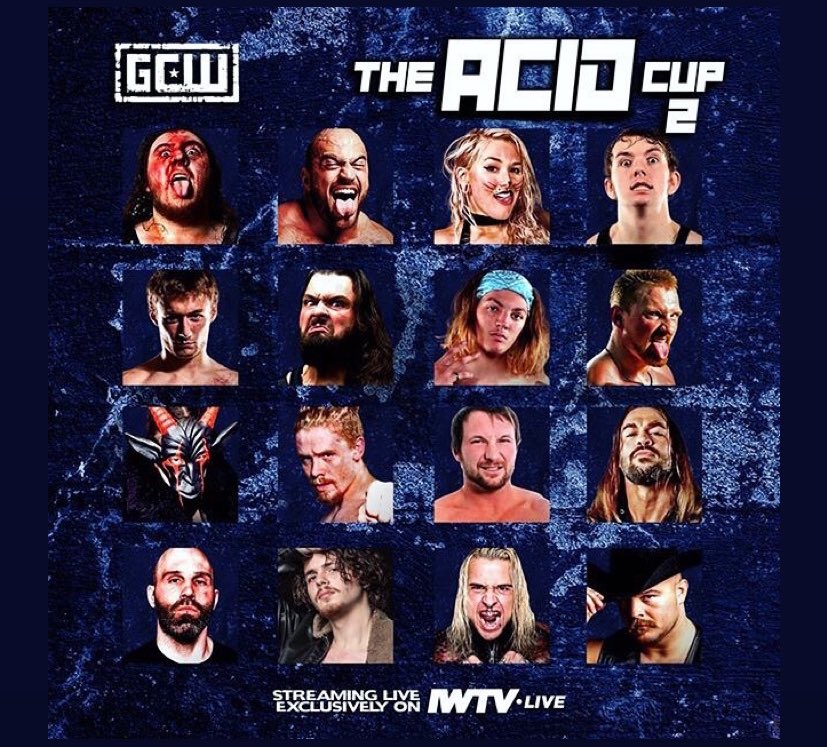 GCW The Acid Cup 2 (Thursday 3/19 and Friday 3/20)
(Streams live on IWTV at 7PM EDT both nights)
GCW canceled two events this week and then scheduled a 16 person, two night tournament wrestled without and audience and streamed live on IWTV.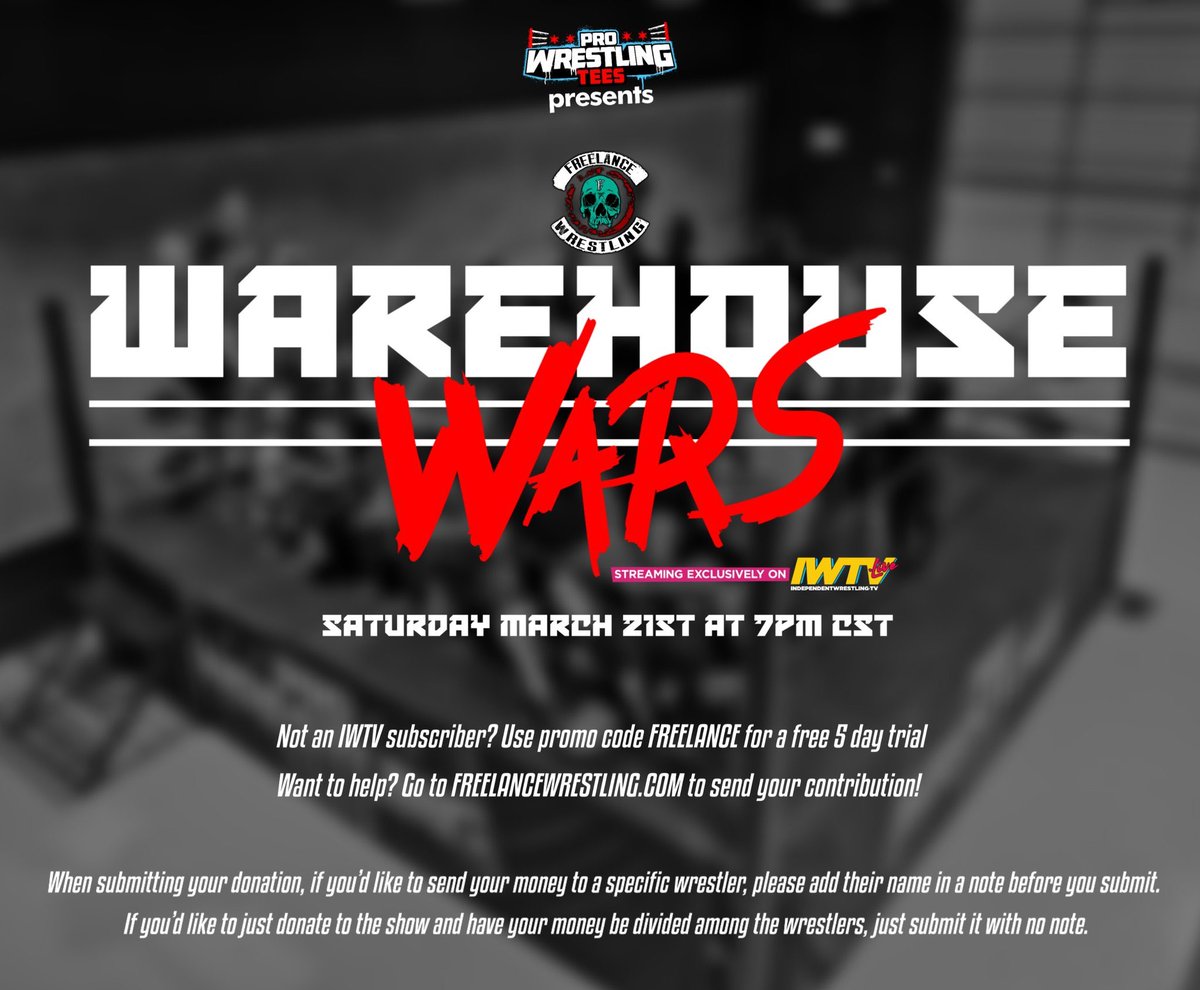 Freelance Wrestling: Warehouse Wars (Saturday 3/21)
(Streams live on IWTV at 8PM EDT)
Freelance Wrestling is also running a no audience show this weekend and streaming it on IWTV. This one will have opportunities to donate to indie wrestlers to help them get through the pandemic season.
Full Streaming Schedule
(Times in EDT)
| | | | | | | |
| --- | --- | --- | --- | --- | --- | --- |
| Monday, 3/16 | Tuesday, 3/17 | Wednesday, 3/18 | Thursday, 3/19 | Friday, 3/20 | Saturday, 3/21 | Sunday, 3/22 |
| Ground Zero Regulators! Mount Up! 3/7/20 (IWTV 1PM EDT)† | 2AW BIG ADVANCE 3/5/20 (Nico Pro 5:30AM EDT)† | Pro Wrestling BASARA 2/18/20 (Nico Pro 6AM EDT)† | WWE NXT UK (WWE Network 3PM EDT) | C*4 Wrestling Best of C*4 Vol. 3 (IWTV 1PM EDT)† | Beyond Wrestling Swamp Sessions (IWTV 1PM EDT)† | |
| WrestleTalk Showcase No Fans Monday (YouTube 3PM EDT) | Actwres girl'Z Beginning 3/15/20 (Nico Pro 8AM EDT)† | Horror Slam Death Proof 11/22/19 (IWTV 1PM EDT)† | GCW The Acid Cup 2 Night 1 (IWTV 7PM EDT) | On Point Wrestling 7th Anniversary Show (IWTV 4PM EDT)† | Journey Pro Space Age Love Song 2 (IWTV 4:30PM EDT)† | |
| H20 Wrestling Academy Undiscovered 1 2/25/19 (IWTV 4PM EDT)† | St Louis Anarchy Circus Maximus 7/9/11 (IWTV 1PM EDT)† | BJW vs CZW Hardcore Series: Vol 1 (IWTV 4PM EDT)† | DDT Judgement2020 (DDT Universe 10PM EDT) | GCW The Acid Cup 2 Night 2 (IWTV 7PM EDT) | Freelance Wrestling Warehouse Wars (IWTV 8PM EDT) | |
| Freelance Underground vs GCW 5/11/18 (IWTV 5PM EDT)† | New South 2020 HOSS Tournament Night 1 3/6/20 (IWTV 4PM EDT)† | Best on the Indies: Jon Moxley Circa 2011 (IWTV 7PM EDT)† | H2O Hardcore Kingdom 4 (IWTV 10PM EDT)† | WWE SmackDown (Fox 8PM EDT) | CZW: UnApproved (FITE 9PM EDT $14.99) | |
| ROH Episode #443 (FITE 7PM EDT)† | NWA Powerrr (NWA YouTube 6:05PM EDT)† | AEW Dynamite (TNT 8PM) | +Lucha and Chill (Más Lucha YouTube 10:30PM EDT)† | WWE 205 Live (WWE Network 10PM EDT) | | |
| GCW The Dynasty 12/29/18 (IWTV 7PM EDT)† | AEW Dark (AEW YouTube 7PM EDT)† | WWE NXT (USA 8PM) | | Southern Underground Pro Shorter, Faster, Louder (IWTV 10PM EDT)† | | |
| WWE Raw (USA 8PM) | Beyond Championship Wrestling 3/1/20 (IWTV 7PM EDT)† | AIW Hell on Earth 15 11/29/19 (IWTV 10PM EDT)† | | | | |
| MLW Fusion #101 (MLW YouTube)† | IMPACT! (AXS, 8PM EDT)† | | | | | |
** = Recommended
†= Pretaped