Wow, the holidays are here again. As much as I do not want to admit that because it means I have to acknowledge the passage of time and the entire year I have lost, it's December. That means it's time for some people to buy presents to give to other people. Preferably through the mail. I don't want to see any of that "social distanced of course!" shit from you all.
Anyways. I'm not a "typical" wrestling fan, but I am a great wrestling fan, which means you should base your holiday gift buying for the wrestling fans in your life entirely on my own preferences.
I Do Not Want This, But I Acknowledge It, But I Also Hate it: The Fiend on the Scene doll ($12.99)
The Fiend on the Scene is supposed to be like Elf on a Shelf, I guess. Anyways I hate this and do not desire it. However, the fact that it evokes such a strong reaction in me is proof that it is a better and more desirable product than say, anything from the Undertaker/Snoop Dogg collection. Still, it's the lowest rank item on this list because I do not want this. I want it far away from me. It is bad to behold and makes me feel a subtle malaise.
I guess if I were to describe the malaise, it would be that The Fiend on the Scene's shiny, printed, soulless face contrasts with his lumpy faux-homemade shape to remind me of the way that "cursed" Christmas kitsch has been absorbed into the glossy commercialized mass-manufactured aesthetic of the holiday season. It also makes me think about The Fiend, and how excited I was for The Fiend's debut, and how long ago that was. This makes me reflect on the passage of time, an experience I despise.
I Do Not Want This, But I Wish It Was Good So That I Could Want It: Rush El Toro Blanco Microbrawler ($9.99)
I love Rush. Rush is a charming hunk who's a treat to watch in the ring. I would love to own an item in the shape of Rush to cherish in my home. This is not in the shape of Rush though. This doesn't capture his charm or his muscles or his sexiness or anything. It makes me sad to look at. Why does he look so old? He is only 32. Why is his nose so small? The real Rush has a beautiful shnoz. This microbrawler is disrespectful to Rush, who has a physical majesty that I would say is comparable to a beautiful horse, and I hate it. (I guess I should say his majesty is comparable to a bull but his long hair is very horselike. Beautiful.)
Rush looking so old in this figure makes me wonder how much he's aged since I last saw him, which also makes me think about the passage of time, something I do not want to experience this year under any circumstances.
I Do Not Want This, But A Reasonable Person With Good Taste Could Want This: Riho Baseball Tee ($29.99)
Sure, technically this is not a 2020 piece of merch, but I still think it's a really nice design. And don't you miss inaugural AEW Women's Champion Riho? She's been in Stardom all year because there's a pandemic rampaging through the USA that other countries have figured out how to contain and she's a smart person who is staying away from that. Anyways I think this is a nice shirt. I'd probably wear it if someone gave it to me as a present. It's cute and makes me think of Riho. Hope she's having a good year.
One of the best things about this shirt is that it was available last year, so I could potentially pretend that it's 2019 when I open my gift and put it on.
I Want This So Fucking Badly But It Doesn't Come In My Size: Shingo Takagi Boxers ($40)
(This is now the tier of presents where everything is so rad that I don't care about 2020 anymore, I just want the cool stuff for myself.)
People will tell you that the hardest thing about being fat is the medical abuse and people being mean to you, but it's actually the fact that the New Japan Pro Wrestling wrestler boxer shorts only go up to a XL. These boxers, based on the very cool and great tights of NEVER Openweight Champion Shingo Takagi, are so sick and I would wear them all the time if I could. I would feel like such a badass in these. These would make a great gift for anyone you feel comfortable buying underwear for. They're literally just so cool.
I Want This But I Don't Know If It's Available For Purchase Or Where I Would Put It: Testuya Endo Nude Poster ($???)
Am I up to date with DDT storylines? I'm not going to lie to you: I am not. That doesn't stop me from thinking this is a great poster of KO-D Champion Tetsuya Endo or from wanting to hear more about the nude photobook being discussed. I love wrestler photobooks, and while I am still sad about Daisuke Sasaki being kicked out of Damnation in October, I'm not so mad at Tetsuya Endo that I won't look at his beautifully printed, nude art photos. Or just this massive poster of a great guy I happen to be angry at in kayfabe. You know. Nude.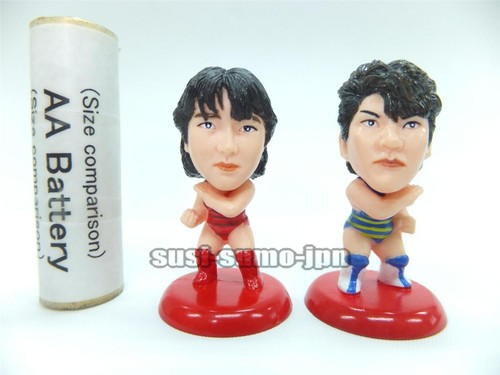 I Have Had This Sitting In My eBay Shopping Cart For Months and I Want It: PRO WRESTLING MINI BIG HEAD FIGURE Crush Gals ($11.04 + $22 S&H)
Okay, again, not technically from 2020, but these little figures of iconic 80s tag team The Crush Gals are available in 2020, and are the only piece of wrestling merch that I can definitively say that I want to own. I have a spot on my bookcase where they would be perfect, right between Saitama from One Punch Man and Clear from Dramatical Murder, in front of my trading card of the Golden Lovers. I really, really want these. I think they're cute, and— while I admit the Lioness Asuka sculpting leaves something to be desired— the Chigusa Nagayo manages to capture a certain sweet sensitivity of her expression that makes her such a lovable babyface! I want these! They won't take up too much space and they aren't unreasonably expensive and I want them. These are the winners.
Actually wait, this store says this is the only one left. Don't buy this unless it's for me. If it's for someone else, just pick up whatever wrestler action figure they have at Walgreens or Wal-Mart. My local Walgreens usually has The Miz. Go get a The Miz, preferably an older The Miz that they haven't been able to sell for years, and then throw it at your friend's house from your moving or stopped car, for safety.
If everyone just threw action figures of The Miz at each other from a safe distance, we'd live in a better world. That's what I think at least.