G1 Climax 30, New Japan Pro Wrestling's sixth out of seven tournaments so far this year, begins with two nights in Osaka. These September 19-20 G1 shows don't totally avoid the worst things about wrestling in 2020, but they deliver, soundtracked by organic crowd noise, some of New Japan's most entertaining matches of the year.
Before we get to the show, here are some review column housekeeping notes. I'm going to cover every G1 Climax show, but when there are two on back to back days those shows will be reviewed together in one article, like how Nights 1-2 are here. I'm also going to end each article with my top match recommendation for each show because the G1 is so long and contains so many matches and I know at a certain point people tend to get behind or lose interest in keeping up with all of it.
A nice thing about the September 19-20 G1 shows, though, is that the coronavirus-era format keeps them about two and a half hours long. NJPW cut the usual undercard bouts in which the next show's block match opponents face off in tag matches in order to reduce unnecessary travel and the risk of talent catching/spreading COVID-19.
But also on the coronavirus note, pro wrestling and sports in general are still really risky during the pandemic! New Japan has pulled wrestlers from cards when they've had fevers and even canceled a house show minutes before bell time because of the results of a temperature check, so hopefully that they continue to be responsible about that, even if it could mess with some tournament plans.
With that note on bleak real-life stuff out of the way, let's get to the actual G1 shows, starting with – oh, wait, a reminder of bleak real-life stuff.
G1 Climax 30 Night 1 – September 19, 2020, in Osaka – A Block competition
Will Ospreay def. Yujiro Takahashi
I recently wrote about the real-life circumstances surrounding Will Ospreay returning to the NJPW ring (and the RevPro ring before that) in an article that was a piece of Actual Journalism and not just Reviewing A Wrestling Show. I thought a lot about how I would approach Ospreay's matches in this review column while I was working on that article and its follow-up, and eventually, I decided to not review his wrestling at all.
I wrote a little about the limits of separating art from artist in the article about NJPW fans' responses to Speaking Out, and I think in that vein it's impossible for me to review this guy's matches like I do everyone else's. It really hasn't been for most of the time I've been writing about NJPW; a woman in the BritWres scene who I thought was trustworthy shared the blacklisting rumors with me a few months after I started doing the Best and Worst of NJPW at Uproxx in 2018 and it heavily colored my perception of his matches, promos, and persona. I didn't really know how to handle that in my writing at the time, especially because I was also trying to figure out how to deal with a predatory person at that workplace without losing the progress I'd made in trying to work as a writer. Because of all this, I'm really not happy with anything I wrote about Ospreay before that NJPW Strong pilot review because I didn't feel I was able to say everything I wanted to say.
Here's my justification as a critic for deciding not to talk about this dude's wrestling at this time: I'm choosing to prioritize in this column the issue of widespread abuse in the wrestling industry above the ability to do wrestling moves.
All kinds of match reviews are completely subjective; even if you just list moves and assign a star rating, what kind of move or execution of a move is better or worse than others is the matter of opinion. If I were to say something like "credible evidence supporting the allegations tied to the rampant sexual abuse in pro wrestling aside, I have to go four and a quarter on that," that would be a lie. Partly because I don't do star ratings in this column, but you know what I mean! I really don't have to laud anything; it's my choice whether I use my platform to do so or not.
If someone can turn their real-world brain off and just watch fight-gymnastics I guess that's nice for them, but that's impossible for me to do when the type of issues brought up through Speaking Out is a regular part of the world I was drawn back to wrestling as an escape from. If I did score Ospreay's matches and the matches of everybody with credible allegations against them related to sexual abuse, their scores would be who could possibly give a shit out of five. It's impossible for these kinds of issues not to be part of the lens through which I watch wrestling, and I don't think this perspective is invalid, and I don't think I'm the only one that has it. If this decision ends up tanking the readership of this column, I guess I'll deal with that.
I will talk about the presentation and booking of Ospreay in this column though because he's a part of NJPW that's impossible to ignore and it looks like he's on his way to even bigger things. His comeback is a major part of the G1 30 opener, he gets an easy win over a low-level heel that lets him just do his moves and exist in front of the crowd, and he gets a rare in-ring NJPW promo that isn't after a main event. The promo reads to me like part of the positioning of Ospreay as Kenny Omega 2, something that he already achieved a long time ago in terms of being crowned the King of Star Ratings.
This position of "Consensus" "Best Wrestler In The World" comes with a lot more baggage when the person assigned it is credibly accused of taking part in the blacklisting of a rape victim, so now almost every discussion or argument about this person in English-speaking wrestling fandom is also a discussion about sexual abuse in the wrestling industry, or pointedly not one. To me, the Ospreay situation and continued megapush with no pause at all to address Speaking Out (Nobody thought to even, like, take the RevPro title off him and say he has to take some kind of sensitivity course or something like that? That's not a concern when he's the face of that company?) casts a long shadow over the G1 opener, the G1 as a whole, and NJPW right now. The feelings of anticipating a fun wrestling show and of thinking about sexual assault are too at odds.
Taichi def. Jeff Cobb
After the Welcome Back, Ospreay part of the show, we get a normal, good wrestling match with no gross surrounding baggage. It's a G1 Climax miracle!
Jeff Cobb and Taichi have worked well together in the past, and they do it again here. Cobb's G1 last year was not what you would hope from Matanza Cueto, but this match makes it look like this could be a redemptive tour for him. The new facial hair choice? Questionable! The suplexes and feats of strength? Undeniably cool! Meanwhile, Taichi puts the best version of his heavyweight self on display. With enough heel tactics mixed in to earn sympathy for Cobb, Taichi looks like a legitimate in-ring threat. That series of kicks leading up to the Black Mephisto for the win makes his offense look the most impressive it's ever been.
Cobb looked strong in this match too, but Taichi made the more positive impression and one that promises a top-notch tournament run. If Taichi and Suzuki keep up the energy they bring to their first G1 matches, the Suzukigun-contra-Suzukigun match that already has that mutual choking going for it could be one of the tournament's brightest highlights.
Minoru Suzuki def. Tomohiro Ishii
From minute one, Suzuki vs. Ishii delivered everything you want and expect from a Suzuki vs. Ishii match. It's two tough as nails middle-aged/old guys trying to beat the crap out of each other, featuring forearms that sound like they really hurt. Suzuki and Ishii beat the crap out of each other here in a way that's almost as much of a performance in-universe as it is IRL. As much as they're trying to win the match, each is also trying to show his opponent and everyone watching that he's the toughest guy in the ring. Also, at one point they start slapping each other in the face at the same time, which is one of the best things that can happen in a wrestling match.
Since like 2013, G1 Season has been Ishii Season, that special time of year when one of the world's most consistent wrestlers gets the opportunity to just have nine kickass matches in a row. His role as perpetual G1 MVP never pays off in terms of points or a place in the finals and that always kind of sucks, but when it comes to entertainment value and the kind of wrestling skill that makes both himself and his opponent look good, Ishii is forever the champion.
This match makes it look like this could be the start of a strong tournament run for Suzuki as well, especially after that surprising setup for the winning Gotch Style Piledriver. His great starting form could break down over the next month (also a possibility for Tanahashi), but he comes out of his match with Ishii looking just as good as he has post-hiatus, looking like one of the rare wrestlers who deserves to hold a singles title and be in a tournament of grade one heavyweights at age 52.
Jay White def. Shingo Takagi
The Jay White vs. Shingo Takagi match in last year's G1 was one of three 2019 Jay White matches I thought was really good (the other two were also in the G1, with Goto and Ishii.) Their September 19 match, however, left me wanting more.
Jay White is undeniably talented at a lot of aspects of wrestling, but his matches often have stretches where it feels like stuff is just happening. Moves are being done, but they're not really impacting how the match is going and they're not especially memorable on their own as moments of spectacle. There's also the longstanding issue with Switchblade Era Bullet Club tournament and title matches (that don't involve Taiji Ishimori) where the same kind of interference happens at the same time in every match. I guess there's the kayfabe excuse that that strategy has worked enough times that they'd keep doing it that way, but it gets so repetitive and predictable.
Shingo Takagi's arc this G1 will probably be having a lot of good to great matches but not all that many points (aka the Ishii arc), ending with him earning a chance to get the NEVER title back from Suzuki on the last night of A Block. However many points he ends up with, though, his performances consistently show that he's one of the best wrestlers in the company. He will probably never win the IWGP Heavyweight Championship because he's a former indie guy in his late 30s, but he's obviously the level of wrestler that matches the level of that title. Everything he does in this match looks amazing. I feel like maybe if this match had been leading towards something that wasn't the finish of so many Bullet Club matches these two could have pulled off something special again.
Kota Ibushi def. Kazuchika Okada
Okada vs. Ibushi is one of NJPW's more protected matchups, one with an air of importance. They're two of NJPW's biggest singles stars, Ibushi beat Okada to make it into last year's G1 final, and Okada beat Ibushi in the main event of this year's January 4 Tokyo Dome show. However, in contrast with its kayfabe gravitas, I thought aside from a few cool moments (that Frankensteiner after Ibushi wobbles on the top rope!) this match dragged.
That issue isn't unusual for Okada singles matches nowadays. Okada's signature style of match, the style of many of his classics, starts on the slow side, with him working to methodically break down his opponent, but there's an underlying intensity that makes that style work that it feels like he brings to the table much less often now than during his record-breaking title reign.
I feel like we also didn't really see the best of Ibushi here; he looked more exceptional as a singles performer during this summer's tag title angle. The takeaway from that storyline is very much what he's chasing, as he declares on the mic – he has been encouraged by his god to go become a god and by god, he's going to do it! I'm sure we'll see some god-tier matches from him later in the tournament.
Overall on Night 1, I thought Ibushi vs. Okada and White vs. Takagi were worse versions of the matches you might have expected from these pairings, while Ishii vs. Suzuki and Taichi vs. Cobb delivered to the fullest extent, though under the shadow of life being terrible and the wrestling industry being disgusting.
G1 Climax 30 Night 2 – September 20, 2020, in Osaka – B Block competition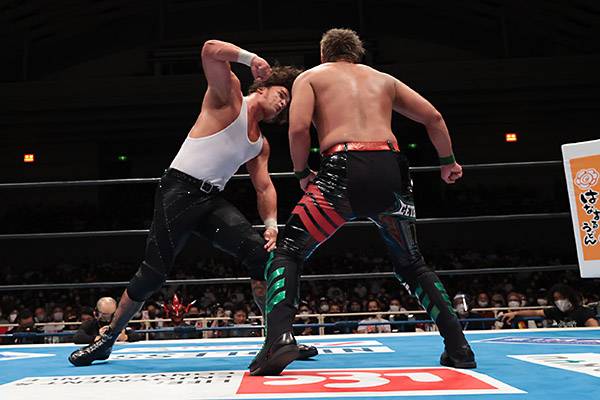 Juice Robinson def. Yoshi-Hashi
The following night, on a show under much less of a shadow, Juice vs. Yoshi-Hashi kicked things off by over-delivering by about a mile. This was Juice's first match since February (a leg injury kept him out of the New Japan Cup USA.) He showed up in a truly insane Blues Brothers-ish getup that fully distracted me from anything that happened in the first three minutes, then showed why he deserved to be missed for the past six months. He reconnects with the crowd instantly, his goofy energy is infectious, and his chops sound brutal. Yoshi-Hashi, meanwhile, wrestled like he was out to prove his unbelievers wrong. He's looked a lot better and more aggressive in the ring since the 6-Man title tournament, and he keeps that energy up here.
This match was way more fun than I expected it to be and started the pattern of every B Block match on September 20 being the best possible version of itself.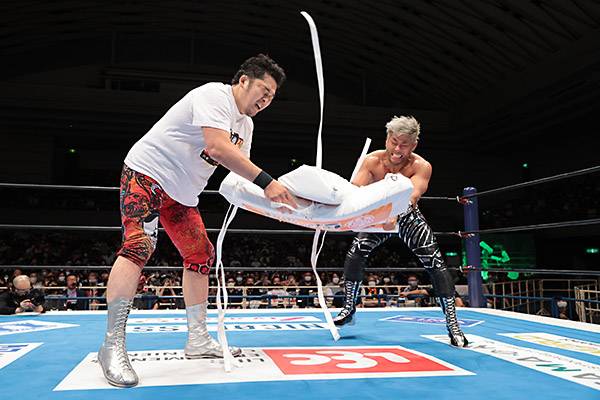 Toru Yano def. Sanada
In the same way that Ishii vs. Suzuki was a reminder that G1 Season is Ishii Season, Yano vs. Sanada was a reminder that it's also Yano Season. Sanada's enters the ring in his beautiful new goth Ziggy Stardust gear and is quickly ushered into Yano's World. There are tape and turnbuckle pad shenanigans, a countout fakeout, and ultimately a countout win with a Young Lion being used as a weapon – all versions of the tried and true bits that make Yano the king of pro wrestling, now with a trophy to prove it.
Also in this match, Sanada reminds us all that in addition to blinding good looks, he has great comic timing! I'm not jealous at all! It's fine!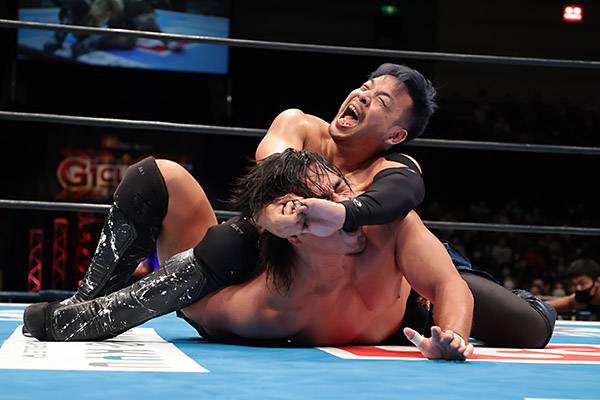 Kenta def. Hirooki Goto
Kenta vs. Goto is a really good match that manages to be completely different from their match at Wrestle Kingdom. Kenta looks like an ass-kicker because what he's actually doing in the ring, with no boost from his legend status. Goto, when he isn't getting his ass kicked, lets his fighting spirit hero side shine, and excitingly deviates from his usual moveset with all that arm work. It's not a match full of emotional drama, but it's one where you still feel like the wrestlers involved hate and want to fight each other because of the intention and aggression behind everything they do. This match really exceeded my expectations in a way that made me wonder why my expectations weren't that high in the first place.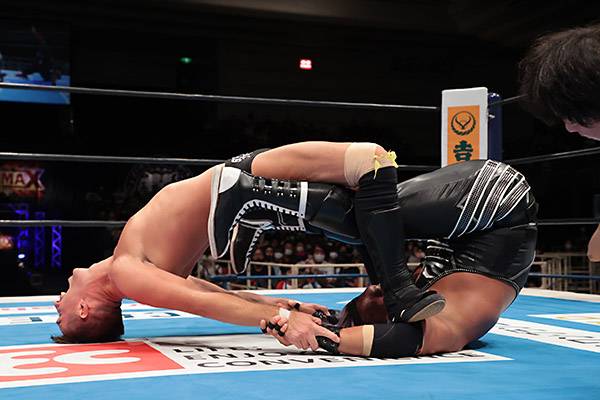 Zack Sabre Jr. def. Evil
The rivalry between Zack Sabre Jr. and babyface Evil was a game of 1) ZSJ being annoying, and much more prominently 2) one-upmanship, each wrestler trying to find the answer for the answer his opponent found for him. ZSJ vs. Bullet Club Evil completely changed everything about their dynamic in a really entertaining way and the first instance in this year's G1 of one of the most fun parts of New Japan tournaments, the rare heel vs. heel matchups. With Evil now the most hated heel in the promotion, ZSJ becomes the babyface by default, using his wrestling smarts if not for good, then for survival against a larger, cheating-er opponent rather than evil, and you can see him play into this with his selling.
This is also, I think, the best singles match Evil has had since joining Bullet Club. While his title matches leaned so heavily on melodrama and interference that the wrestling suffered, this match finds a better balance of the action part of pro wrestling and the Dick Togo of it all. This was more like how Bullet Club Evil has looked in his tag matches, and if his matches continue in this vein I think he could have a really good G1, both in terms of entertaining bouts as well as the points he's likely to rack up.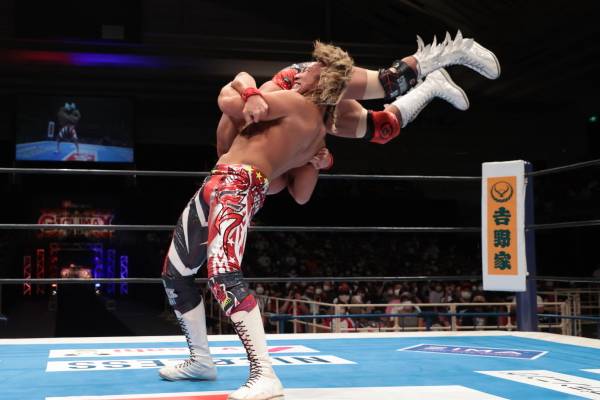 Tetsuya Naito def. Hiroshi Tanahashi
Naito vs. Tanahashi is the NJPW's first post-hiatus main event that really felt like the absolute best of NJPW. I think this was the best main event they've had, the only one that's really achieved greatness, since Naito vs. Okada on January 5.
There is nothing about this match I couldn't gush about. It's the first Naito-Tanahashi singles match since their fantastic feud from late 2016-summer 2017, and for those familiar with those matches, that means it has high standards to live up to. Both these men already had messed-up knees three years ago, and now, after real-life surgeries and kayfabe angles about whether they can come back from the edge of total obsolescence (which they both did, winning the IWGP Heavyweight Championship in the main event of Wrestle Kingdom in the process), both Naito and Tanahashi constantly seem to be, more than ever, on the verge of obsolescence and their bodies completely falling apart.
But after angle the questioned whether he might be completely washed, Hiroshi Tanahashi shows he can still have the kind of match that reminds you why he is the Ace of the Universe, the One in One Hundred Years Athlete, et cetera. Everything in he does in this match looks as good as I think it ever has, all his classic moves look effective and well-executed and are used in ways that are still exciting to watch even if you've been watching his matches for years. The High Fly Flow to the outside is a probably dumb decision that looks insanely cool. Naito wrestles like his best self too, and makes the smart choice to show that Ingobernable mix of aggression and dickishness in his wrestling without really putting on a black hat. Overall, Naito and Tanahashi show they can absolutely still have top-tier matches and they still work great together, while bringing palpable aggression and desire to win to this match that keeps it exciting all the way through.
And for the characters, while it's a literal win for Naito, I like that the Tanahashi character realizes this performance is a personal victory for him too. He doesn't have any points on the board, but after a match like that, you can see how he could feel another Complete Comeback is within reach.
G1 30 points tracker:
2 points – 1-0: Jay White, Juice Robinson, Kenta, Kota Ibushi, Minoru Suzuki, Taichi, Tetsuya Naito, Toru Yano, Will Ospreay, Zack Sabre Jr
0 points – 0-1: Evil, Hirooki Goto, Hiroshi Tanahashi, Jeff Cobb, Kazuchika Okada, Sanada, Shingo Takagi, Tomohiro Ishii, Yoshi-Hashi, Yujiro Takahashi
Match recommendations:
Night 1: Ishii vs. Suzuki
Night 2: Naito vs. Tanahashi