2021 Tarot Wrestling Readings, Predictions, and Vibes
Hikaru Shida should stop making friends, but Orange Cassidy needs to hold onto his
2020 proved to us that absolutely nothing is known and we are all at the whims of the universe constantly. We are but pawns on a turtle in a garbage truck, or something. In that spirit, and inspired by Colette's discovery of a 70's astrologer's predictions for various wrestlers, I thought I'd try my hand at sensing the cosmic vibes. I got very interested in tarot maybe 2 years ago— so I'm certainly no expert, but I've really enjoyed doing it for myself and others. For these readings I used the Ethereal Visions Illuminated Tarot Deck, which was the first deck I bought and still probably my favorite. The images used here are from the Rider-Waite deck, which is the most classically used deck and the one most available for pics on the internet. Please note this is all for entertainment the card is subject to change.
I sat down, I shuffled my deck, I put on my Spotify manifesting playlist, and I asked the universe what messages does professional wrestling need to for the upcoming year. More specifically, what might the year have in store for six of wrestling's top stars. Here's what the universe wrote back:
Roman Reigns
Roman is certainly in his king energy right now, ruling SmackDown as the Tribal Chief feat Paul Heyman. But nobody's on top of the mountain forever, and this could spell a journey down a rocky road for the head of the table. The Knight of Cups is a man who's in tune with his emotions; including anger and disgust towards his family members. He can also represent a new arrival or relationship, typically a very positive one. Maybe we'll see Roman recruit others to his burgeoning family unit.
The Knight of Swords also symbolizes moving forward, often with a new idea or goal, but sometimes without awareness of your surroundings. It seems unsurprising that "getting a big head" would show up in Reigns' 2021, given pretty much everything he's doing right now. The Knight of Swords suggests unseen obstacles that can knock you down as you blaze a trail forward; for example, the cousin you continually verbally abuse on live TV may come back to kick you in the ass. The Five of Wands is a lot of conflict- like, multiple weapons on a pole ladder match level of conflict. There are forces coming from all sides to try and claim a victory for themselves. If I were Roman, I'd start checking myself before I wrecked myself.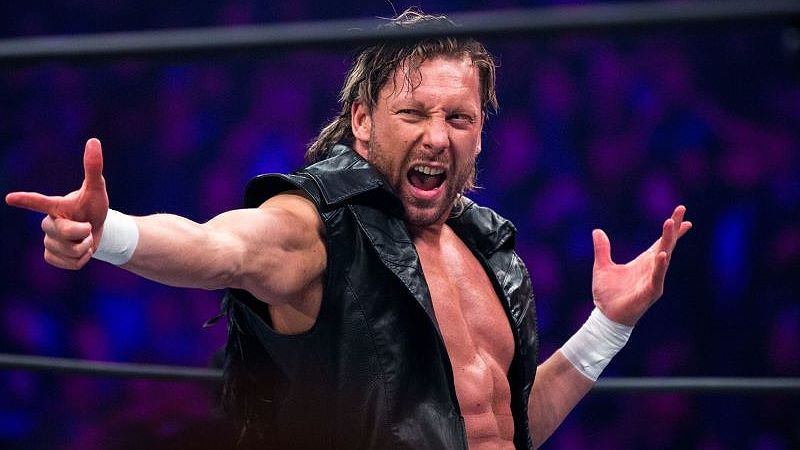 Kenny Omega
An eventful year in store for The Cleaner! The Sun typically represents confidence and positivity— but reversed, it can be a period of depression and darkness. There's a lot of confusion— perhaps over how it's possible to rock the exact same haircut for 7+ years. It can caution you to check your ego, because being self-centered may lead to your downfall. Following this with the Ten of Swords reversed points to a very rough patch for Mr. EVP— upright, the Ten of Swords is the betrayal card, but reversed, it's a painful acceptance of the things we can not change. It can often proceed a forced new start; could we see some backstabbing in Kenny's future? It's wrestling, so yeah, definitely. That one feels pretty certain.
Death also represents the end of a journey and the beginning of a new one; it's a transition between one chapter to the next. Death is the final step in any story, and for anything new to begin, something else has to die. It looks like Kenny's got some big changes rolling in; definitely keep an eye on everyone favorite Canadian Backstreet Boy, because things are gonna get pretty rough out there. The vibes here read for some Elite level drama; maybe a literal backstabbing by one of the Jackson brothers?
Sasha Banks
In 2020, Sasha Banks got to meet the Baby Yoda puppet, so personally I'm not sure things can even get better for her, but let's take a look anyway. The Four of Swords reversed can often signal a burnout— someone who's pushing themselves too hard. This is no shocker for a woman who bumps like she intends to die for our entertainment. The SmackDown Women's champ is feeling the stress of having a target on her back constantly, and she might struggle without many allies in her corner.
The Three of Cups reversed can represent solitude and loneliness. Someone is forced out of a group and feels alone; it could be we're seeing The Boss fend completely for herself for the first time ever. Something might even take her new tag partner Bianca Belair from Sasha's corner as she moves forward. And yet, there seems to be a more solid future ahead for Banks, as Temperance represents choosing a middle path and finding balance and strength. There's an inner serenity to that card, suggesting the year might end on a high note for Sasha. Or at least a calm one. Overall, this doesn't spell too much trouble- I'd bet on the universe letting Banks hold onto that SD title for a while, even if she has to do it all alone. The cards are supporting you, Sasha!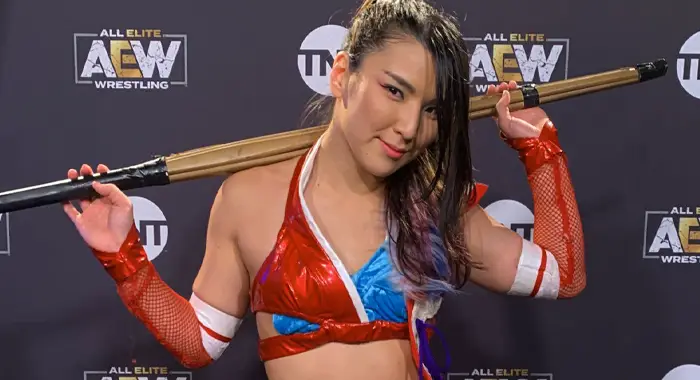 Hikaru Shida
Hikaru Shida has been AEW's women's champ since Double or Nothing in May, and while the company has finally given her a few more title defense on Dynamite this winter, it would still be nice to see the top woman in the promotion given more time. Shida's first card here, The Hanged Man reversed, kind of encompasses most women's efforts in AEW: needless sacrifice. It can represent feeling frustrated with the results of your actions, especially after putting yourself in a difficult position that you thought would lead to your goal. For Shida, this feels pretty clearly connected to her championship— it may be in jeopardy as a result of her own actions. Maybe she finds herself facing a challenger who she grossly underestimates— this could spell the end of her lengthy reign.
The Page of Swords is connected to a childlike restlessness, an energy of new projects and journeys. The page herself is excited about the start of this adventure; she's unaware of anything that may lay ahead. Combining this with the Two of Cups, it seems like there might be a new partnership in store for the champ. Unfortunately, it seems like any burgeoning friendships won't be genuine, as the reversed Two of Cups is about an imbalance in a relationship. The power isn't equal here, and the two involved aren't on the same page. Just to be safe, I'd tell Shida not to make any friends in the next few months.
Kyle O'Reilly
Everyone's favorite beagle dad had a bit of a rough start to the year, coming up short against Finn Balor for the NXT title. The Ten of Swords definitely reflects that; it can be about putting in a great effort and still not quite reaching your goal. Kyle's very familiar with the feeling, evidently. It's also the betrayal card, warning that forces are working against you beyond your control. But The Moon encourages one to trust their intuition and follow their goals; the moon and nighttime itself can represent dreams and fantasies. It also suggests to listen to your gut, since it can be hard to find your way in the dark. Kyle should stick to his air guitar guns, even if his friends try to lead him astray. Man, I really hope this isn't about Bobby Fish and QAnon. This is sending me big "trouble in Undisputed paradise" vibes, but it doesn't seem like an outright breakup. The tension might lead to a breaking point, however, since the Four of Swords signifies a period of rest and relaxation— potentially some time off is coming for Kool Kyle. It's a time for recovery (oh no) but also symbolizes that we are capable of moving forward. When he returns, it'll be better than ever. And probably with an even more bonkers hairstyle than that reverse mullet.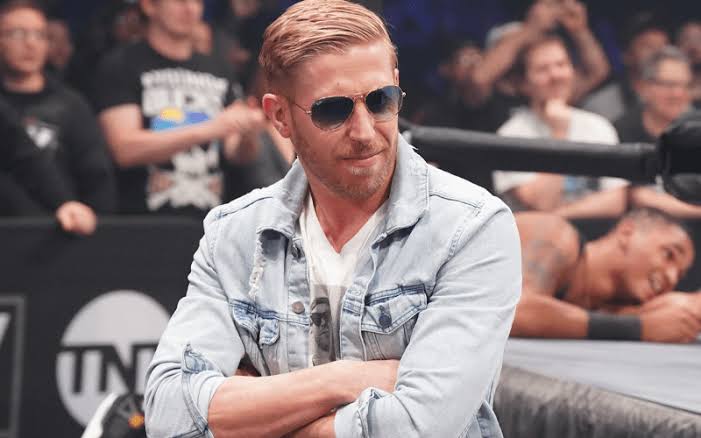 Orange Cassidy
Our freshly squeezed main squeeze had an eventful 2020, and his new year has sadly kicked off with one friend injured and the other getting a second job as a butler for a very mean man. Luckily, things look to be improving— the Knight of Wands is a man of action who pursues his goals with drive. He's passionate and often impulsive, which might mean we see OC actually try for once as he goes after something he really wants, potentially without much strategy or backup. The Lovers reversed spells more issues for Best Friends moving forward— discord in a partnership, problems among those in a relationship. When Trent returns from his injury, there might be some real bumps in the road for the trio. Finishing with the Eight of Cups makes my heart hurt; it represents a chosen abandonment, leaving something behind with the knowledge that you are losing it forever.
This suggests a BFF breakup incoming, which is horrible news for everyone involved. Especially me.
Nick Gage
The Seven of Wands shows a defensive stance, symbolizing protecting what is yours because the battle never truly ends. And if anything feels like Nick Gage energy, it's being in a constant deathmatch at all times. This suggests gold may once again be coming to Gage in the near future, but he's going to be #1 on everyone else's hit list. What's new, I guess. The Tower is one of my least favorite cards to get in my own life, because it always means shit is about to hit the fan. Gage is certainly familiar with the feeling of plummeting rapidly towards your own demise, but this time it'll be more emotional than physical. This, combined with the Ten of Swords, is a definite betrayal of some sort. A figurative and literal backstabbing will take place; potentially with actual swords, I'm not sure how wild GCW has gotten during the pandemic. Gage is right to assume a defensive position once he's ascended the mountain, because there's some devastating blows ready to knock him back down. Sorry about this, Nick.