Celeste Releases First And Final DLC, Updates Assist Mode Text
The long-awaited Chapter 9, titled "Farewell," includes over 100 new levels.
Celeste fans are getting one last hurrah, as promised by Extremely Okay (formerly Matt Makes Games). The studio released a free DLC pack dubbed as Chapter 9, titled "Farewell," including a slew of new levels as well as some minor game tweaks.
The DLC is one last good-bye for the renown indie game. Celeste was well-received from its launch for essentially anything an indie game can achieve. The aesthetic of the game is gorgeous, with bright colors and simple but effective visuals. The gameplay is understandable but challenging; for those who need it, an "Assist Mode" allows players to adjust the game to their unique needs. And the soundtrack also received plenty of high marks.
Most importantly to many, though, Celeste depicts a straightforward yet powerful story of mental health. It centers around Madeline, who deals with severe, nearly-immobilizing anxiety, as she climbs a massive, infamous mountain. When "A Part of Madeline" breaks out from a mirror, it wreaks havoc on the journey. Madeline must reflect on her counterpart and herself as she works towards her difficult task.
In short, it's no wonder the game has kept its buzz up until this DLC. No major spoilers, but from the name of the chapter and the way it's discussed, "Farewell" will likely be the final piece of Celeste's story.
You May Also Like:
That doesn't mean the game will go lightly into the night, though. Celeste fans up for the final run will encounter over 100 new challenging levels. As difficult as they seem, Celeste has always been about fun and learning as much as it has been difficulty. It looks like the game's dedicated players will have a lot to chew on as they try to surmount this mountainous good-bye.
The new levels also feature new soundtrack music from Lena Raine. Celeste's soundtrack under her direction received high praise and was nominated for several gaming awards. If you pick up Chapter 9 and quickly enjoy the soundtrack, it's officially available on some streaming services already.
One more minor, but important, detail was changed in the game as well. Celeste comes with "Assist Mode," which allows players to adjust some of the game's parameters in order to make it more accessible to those with unique needs. However, it was framed as "making the game easier" instead of creating an accessible experience. With debates raging on conflating accessibility with difficulty, and shaming those who wanted an accessible experience,  it left a sour taste in many's mouths.
With the help of disability consultants, Extremely Okay updated the language in this patch. The new phrasing shifts the focus where it needed to be: making Celeste a playable experience for everyone. It now reads:
Celeste is intended to be a challenging and rewarding experience.
If the default game proves inaccessible to you, we hope that you can still find that experience with 'Assist Mode.'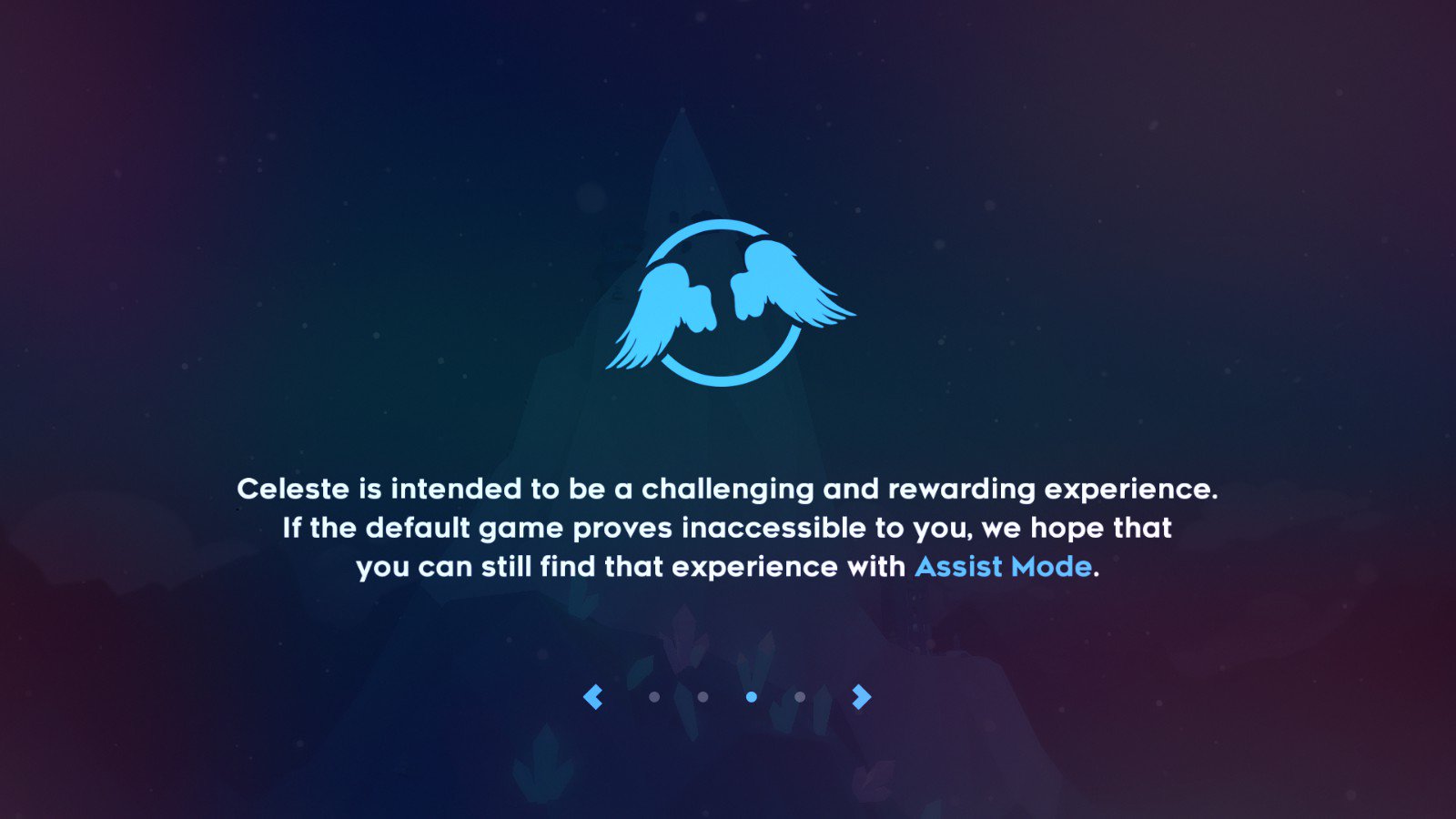 All the initial acclaim for Celeste was backed up by the industry as a whole, plus some major accolades. The game has been nominated for, and won, plenty of major awards. At The Game Awards, it was nominated for nine awards, including a surprise nom over AAA hits for Game of the Year. It lost to God of War, but it still took home Best Independent Game and Games For Impact. It was also up for four BAFTAS.
If you're curious about game but haven't picked it up, there's no better time than now (unless you're like me and want to wait for a sale). The game is only $20 on all its available platforms: Playstation 4, Nintendo Switch, Xbox One, Windows, Mac and Linux. And once you have that, the DLC itself is free.