'Tis the season to be jolly — and merrily grab a ton of loot in Borderlands 3. Luckily, you don't need to do too much slaying and hunting to get some of what Gearbox is offering this holiday season, in the form of SHiFT codes galore. (And some Borderlands 3 Amazon Prime exclusives on top!)
Gearbox is offering up a ton of free Borderlands 3 holiday stuff for Vault Hunters to grab, including some Golden Keys, Trinkets, skins and more. All you need for most of it, thankfully, is a SHiFT account. The account is free and lets you access the Forum and betas as well, on top of all the random SHiFT codes that Gearbox dumps throughout the year.
If you're subscribed, there's also some Amazon Prime loot, including more Golden Keys.
If you've got BL3 and your SHiFT account ready, here's how you can pick it all up.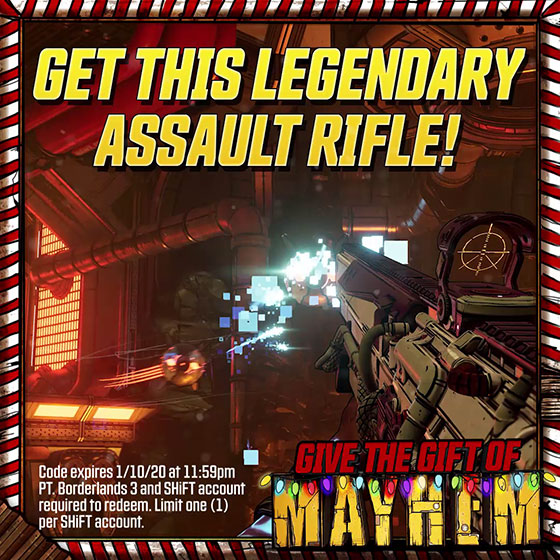 Free SHiFT Codes — Golden Keys, Skins & More
If you aren't a Twitch Prime subscriber, no worries. In fact, it might not even matter, because Gearbox is giving away free codes throughout the holiday season for you to nab. And there's a ton of stuff, honestly, so much that you might not even bother giving temporary loyalty (and your credit card number) to a multi-billion-dollar corporation!
Every day since December 13th, Gearbox had posted a new SHiFT code on their Twitter profile with different prizes to nab. We saw Echo skins, a Legendary assault rifle, and three Golden Keys. And now that they're all out, you don't have to worry about forgetting them each day!
If you're not keen to basically scroll down the Borderlands Twitter feed, have no fear. They've compiled all their SHiFT codes onto their official blog about the giveaway. And no rush necessary, but don't procrastinate too hard — these codes expire January 10th, well into the new year.
On the blog as well, they have one more little Easter egg (or Christmas ornament?) — an original tune called "Violent Night," which is about as lovely as it sounds. There's also a little set of cute wallpapers for you to download, if you're into that.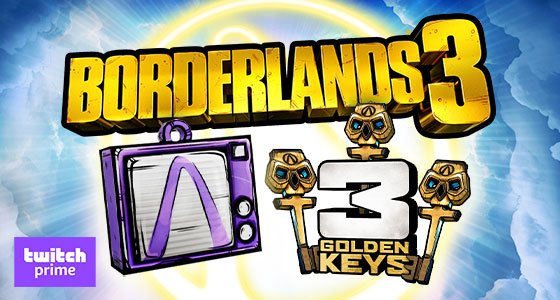 Twitch Prime — Golden Keys & Trinket
If you have given your key to the corporate overlords of Amazon, congrats! You get a few more little neat Borderlands 3 treats through Amazon's Twitch Prime program.
Namely, you can nab a Twitch-themed trinket! Which is neat and all! But some players may be eyeing the three Golden Keys that also come packaged in the SHiFT code. In that case, you can just think of it as a package of Golden Keys that come bundled with a bonus exclusive trinket. Whatever floats your boat!
More Borderlands 3:
In order to claim them, you need to link both your Twitch Prime and SHiFT accounts onto the Borderlands 3 loot page. And it might be good to do it now — it looks like more loot is coming down the line, likely all the way into May if the fine print is any indication. (Note: If you're on Stadia, you'll probably have to wait, as BL3 is a few versions behind.)
If you don't have Twitch Prime, you can always sign up for a 30-day trial. But if we're being honest, is a trinket and three Golden Keys worth blowing your free trial on? (Depends on who you are, I guess.)
Of course, if all of this is too vanilla for your tastes, chances are you've already picked up the newest DLC. Borderlands 3's first primary, paid and story pack, titled Moxxi's Heist of the Handsome Jackpot came out yesterday on PC, PlayStation 4 and Xbox One.