Taking the financial leap to bring your game to an event like PAX South means something different to everyone. From the outside looking in, a booth on a showfloor is a playable advertisement for a game in hopes of convincing everyone who stops by to purchase the game when it comes out. But in actuality, for independent developers a presence at a convention is a stepping stone for something bigger than increased sales, as I learned from speaking to various developers who traveled to San Antonio, Texas last week to show off their games to the PAX South attendees.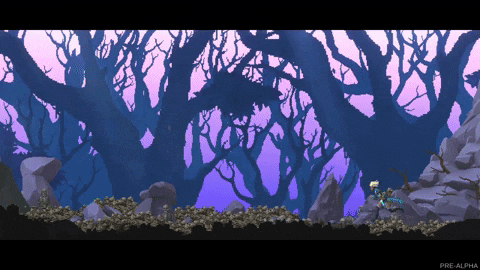 While larger companies like Nintendo, Microsoft, or Sony might view an appearance at something like PAX as just another stop on the marketing trail, developers I talked to could employ teams as small as only three people, which means the stakes of any event, coupled with the costs associated with occupying a booth, travel, and equipment makes each appearance worth a lot of consideration. But what makes all of the above worth the trip depends largely on a multitude of circumstances that varies from company to company, and even person to person.
For some independent developers, the risk can be relatively small, like Canadian Big Blue Bubble, which was at PAX South promoting Foregone, an action platformer with a Diablo-inspired loot twist. Michael Hammond, marketing lead for the game, explained that the studio's success with the creature collecting mobile game My Singing Monsters had given the team a safety net to work on other games more in line with the team's personal tastes.
According to Hammond, showcasing Foregone at events where "the big guys" of the industry can take notice was what led to deals like the game's planned exclusive launch on the Epic Games Store and it being featured at last year's Game Awards.
So after being noticed by big partners, Hammond says Foregone's greatest gain comes in the form of a new quality assurance focus group: everyday players.
"Being at these shows is one way that you can kind of show 'hey, people are interested in this game,' and it's another way that you can just gauge interest," Hammond said. "Like, 'are we on the right path? What are people's pain points with the game? Where are things that we can improve?' There's lots of different things that— you may not be getting huge monetary benefits, but there's other ways you can get benefit for sure."
For other developers, showing a game at an industry event is one of the few times they can make an appearance in the United States, which, for studios like El Salvador-based Stonebot Studio, is key to the success of a game like The Last Friend. Business Development Manager Alessandro Biollo explained that the video game industry in Latin America is less receptive to smaller-scale independent games, and that has made having a presence in the US paramount if they hope to see a return on the tower defense/beat-em-up hybrid.

"The US community of gamers is wider than in other places," Biollo said. "When I say 'wider,' I'm talking about the gamers who play indie games. We don't have a big indie game community in other countries like the one in the US and Canada. It's like, in Latin America people only play AAA titles. So even though we're latinos, we can't really sell our games in Latin America because people want to play AAA titles, not indie games."
Without opportunities to show The Last Friend to American audiences, Biollo says he's not confident the game could be a success. Since the game's debut, however, Biollo says he's seen passionate reception both from attendees and influencers thanks to making the trip across country lines.
"For us it's really exciting," Biollo said. "You saw those guys that were in the booth? They were already wearing our shirts. They came yesterday and they were following us from Twitter. That really fulfills our dream."
Despite the struggles and stress of international travel and marketing, Biollo told me that Stonebot isn't discouraged, and is happy to be representing El Salvador at any show it can.
"This is our way of living our 'American Dream,' but in our country," Biollo said. "If you go and talk to our team, none of the members of the team want to live in the US. We're happy living in El Salvador, but we need to ship our game. The best place to ship it is here in the US."
Some developers cross state lines to be at PAX South, others are coming from different countries, but for Paralune, a three-person team based in Austin, Texas, staying local has been a way to show Mythic Ocean without draining its budget. Paralune was in a unique position for most indie devs at the show because it was showing a game that launched just days prior on Steam and Itch.io. Robyn Haley, character artist on Mythic Ocean, says having a game on storefronts to point to as players came through to play gave the studio a tangible metric to look at after the show, but is keeping its expectations about seeing an immediate return in check.
"This is such a feel-good convention for us because we have something that can be quantifiable later on," Haley said. "It gives us a certain amount of confidence, in a way, hearing people say 'ooh, I'm going to go get this.' It's like, we don't know for sure if it's going to happen, but it's encouraging. Whereas, with other conventions when we were saying 'hey, the game isn't out. How are we supposed to get any sort of data on was this successful or not?' Maybe you get a little bit more of a social media following, but that doesn't translate to money."
Since the studio's not as concerned with immediate sales, what prompts three people and an already released game to make the trip is the hope that PAX South can be the site of new partnerships you can't start with a phone call or unsolicited email.
"I don't think we're going to get that many sales from this, you know," Malley said. "The hope, and we have actually talked to a couple people who are involved with publishing indies on consoles and stuff. That's the thing we're looking out for now. [We] messaged some of these people weeks ago like, 'hey, we're gonna be at PAX South. If you're there too, let's talk and see what we might be able to mutually do for one another.' Then finally they'll be like 'oh yeah, sure let's do this.' Then hopefully they'll come to the booth. It's a thing you have to prepare for, and I think if it'd been the cold call of 'hey, we want to talk about you publishing us,' if it wasn't for the 'oh, and also we'll be at PAX South,' I think it might not have worked, you know?"
Whether any of these new connections will result in something like a Mythic Ocean console port or a publishing partnership on Paralune's next game is yet to be seen, but Malley says that all the studio, and any independent developer can do is cast a wide net and hope having a demo to show at PAX South can lead to a feeling of progress, in whatever form that may take.
"Speaking broadly, I think this is a conversation that's been on our minds a lot as indies," Malley said. "I don't think we necessarily have an answer to 'is it worth going to these shows,' or which ones are worth going to, or which are the most worth going to. They've helped us, but it is still slightly hard to quantify. Nothing has really blown up for us at one of these events. We can't point to an event and be like 'yeah, if we hadn't gone to South By [Southwest, multimedia convention held in Austin, Texas] nobody would have known about our game.' It's just little things. And in the end, this whole indie business is all about throwing dice, and you just hope that some of these connections will work out and some of what you've put effort into will pay off. And because you don't know what's going to pay off, there's so much luck and happenstance involved, you just do a bunch of things and events like this are one of them."