Professional wrestling can be completely consuming—it's both beautiful and intimidating in that way. There's more hours of wrestling content being produced around the world each week than there actually are hours each week and when we get hyper-intoxicated by it, it's easy to spend every extra second we have reading about backstage drama, arguing with strangers about booking decisions online, or even coming up with our own ways we'd like to see shows play out vs. the way they almost always do. Pro wrestling is an entire ecosystem within itself, with a deep history that's now unfolding before our eyes faster than ever before. But—at the risk of sounding like Violent J or some shit—how does it all work and what does it all mean?
It's tough to retain a focus on pro wrestling's big picture when there's so many small things happening within that ecosystem each day. By taking a moment every month to reflect on the stories that do matter in the grander scheme—the things that relate to how the industry operates and how its cogs are turning, beyond the (absolutely necessary) nuts and bolts reporting about things like in-ring results or contracts—we're hoping to provide a bird's eye view on professional wrestling. Though, wrestling exists on a massive and international landscape. It happens every day in VFW halls, backyards, bars, local gymnasiums, and some of the biggest stadiums that exist on Earth. We'll undoubtedly miss some things, but here we'll always report with an industry-wide perspective. Pro wrestling is art and we need to know where our art comes from and how it's made, if we want to fully understand and appreciate it.
January (as usual) was filled with a handful of major wrestling news. We said goodbye to legends like Rocky Johnson, who sadly passed away, and Jushin Thunder Liger, who officially retired, while the two biggest companies in the world (WWE and New Japan Pro-Wrestling) entered their most popular seasons with the Royal Rumble and Wrestle Kingdom, respectively, taking place. But if you haven't been tuned in and following closely to what's happening in the news, here's a quick look at some important stories to know from the world of pro wrestling.
AEW Gets Multi-Year Extension
What Happened?
Turner Broadcasting announced in mid-January that it's giving All Elite Wrestling a multi-year extension through 2023 and also gave the green light on a second weekly AEW show.
Why Does it Matter?
AEW's extension with TNT is a major push forward for the promotion but also tells us a few things about the current state of professional wrestling's competing businesses. With its extension, AEW has fulfilled its once unthinkable promise to offer U.S. wrestling fans a mainstream alternative to the WWE. While most fans were excited about the idea of an alternative wrestling show on cable television, there was skepticism about whether it could challenge the WWE. Though AEW has taken its fair share of shots at the WWE (Cody's warning shot to Triple H by dismantling a throne with a sledgehammer was quite the gesture), but the company has also made it clear that it's carving its own path rather than going all out with a slash-and-burn of the WWE monopoly. It was an impossible target to hit—a billion dollar corporation that's stood atop pro wrestling's hill for two decades and counting—but revolutions and industry change often come in small steps. Turner putting its money where its mouth is, so to speak, proves that AEW won't in fact be a short-lived pipedream. What started with some Bullet Club t-shirts making the rounds in Hot Topic stores around the country has snowballed into an entire wrestling company that will now air two shows a week on national TV. The extension is a concrete example of Turner's trust in what Tony Khan and The Elite have cooking with AEW and shows that 2019's skyrocket was just an appetizer for what Turner believes can come next. There's no more guessing how successful AEW has been based off ratings reports: the company has proven itself to a major financial backer and a one time-kingpin network where pro wrestling thrived in the 90s. What once was "What if?" is now simply "What's Next?"
More Pro Wrestling:
Triple H Makes a "Terrible" Sex Joke about Paige
What Happened?
During a media scrum in mid-January, Triple H answered a question about whether retired stars like Paige or Edge would ever return to the WWE in by saying he'd love to see them back in the ring. But Triple H—real name Paul Levesque—added this: "More importantly than that, though, I would like to see them live long, healthy lives. You know, Edge has kids. Paige, maybe, she probably has some she doesn't know of."
The gaggle of reporters off-screen are heard laughing at Levesque's remark about the former three-time champion, who was the victim of online abuse and sexual harassment after she had private photos leak in 2017, and no one in the room seems to question Levesque's remarks—a silence that speaks volumes about pro wrestling's male-dominated media problem. Levesque later apologized.
Why Does it Matter?
Let's let the Bella twins explain this one: "We will never see the true change in equality if we just see them as story lines. Change in a company starts from the top. Our leaders help set the example," they tweeted out following the incident.
WWE has a long history of issues surrounding workplace harassment and poor on-screen treatment of women. Paige told former WWE ring announcer Lilian Garcia that she contemplated suicide in the wake of the 2017 leak targeting her, which she says still follows her with online harassment. After video of Levesque's comments began to circulate online, Paige responded: "Even my boss jokes about me.. no wonder you guys still do it too." For a company that's loudly patted itself on the back for its efforts in promoting equality since AJ Lee called out the company in 2015 for its unequal pay and screen time, hearing the WWE's most visible male figure—who many suspect will one day take over the company—publicly degrade its female employees is nothing short of a major step backwards.
Edge Returns from Career-Ending Injury, LA Parka Passes Away Months After His Own
What Happened?
In two unrelated stories intertwined by their common misfortune: Edge returned to the WWE in this month's Royal Rumble match after suffering a once-believed "career-ending" neck injury a decade ago, while Mexican wrestler La Parka (the second, not the WCW legend) passed away mid-January from kidney failure after he was paralyzed months ago in an in-ring accident.
Why Does it Matter?
Both stories—one heartbreaking and one heartwarming—are grim reminders of the real danger and risk behind the veil of pro wrestling's scripted reality. It's often ignored in the midst of multi-hour marathons or lengthy matches remembered only for their mega spots, but every second a pro wrestler gives to the business is physical pain. You'll often hear wrestlers compare every little bump to being in a small car crash or the difficulty veterans in their 40s, 50s, and beyond have making every little movement throughout their daily lives as a result of decades of beating the shit out of their own bodies for our entertainment. I think of Nick Dinsmore (WWE's "Eugene"), who nobody's mind would ever jump to when thinking about dangerous in-ring spots. Dinsmore described to me over the phone back in October, days before La Parka's tragic injury, about how he struggles to shower, needs a minute to get up off the couch, and can sometimes barely bring himself to pick up a grocery bag. He worked through multiple torn biceps for years and most fans remember him as a character that was supposed to be comedic relief in the WWE. Wrestling is always dangerous, even when we're not hyper-aware of all its risks. In-ring injuries will undoubtedly come up again and again in Edge's storyline leading up to WrestleMania, but it's important to remember that it's all real—even when we want it to be fake.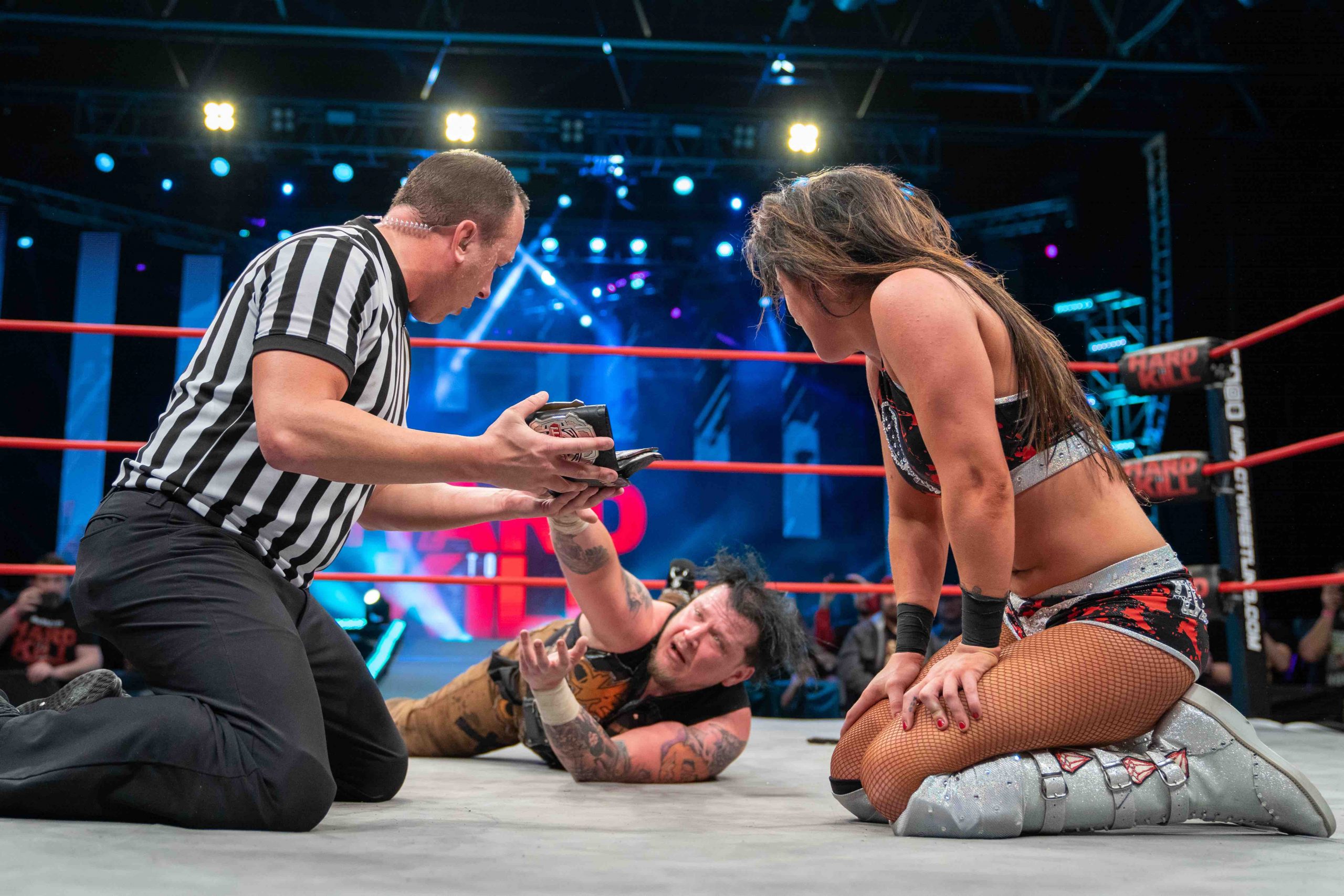 Tessa Blanchard Historic Win Marred After She's Accused of Using Racial Slur in 2017 Match
What Happened?
Tessa Blanchard was accused of bullying and using the N-word by other wrestlers, including Chelsea Green and Allysin Kay, who tweeted, "Remember when you spat in a black woman's face and called her the N-word in Japan?" after Blanchard tweeted out a complaint about a lack of support from other women wrestlers ahead of her historic Impact! World Championship win the next day. Blanchard denied the accusations and never apologized publicly—La Rosa Negra, the woman Blanchard allegedly made the racist comment to, said she didn't expect or want an apology, while other wrestlers including Priscilla Kelly, Rebel, and Renee Michelle all backed up the allegations against the world champion-to-be.
Why Does it Matter?
Blanchard's win was supposed to be a progressive step forward in professional wrestling, but the history-making-moment was marred with another reminder that the industry has a handful of regressive issues still lingering in its DNA. Blanchard's alleged incident isn't alone, not even in recent wrestling history. In the same year the WWE crowned its fourth black world heavyweight champion in Kofi Kingston, another one of its major stars Randy Orton used the same racist rhetoric as Blanchard during a live Twitch stream last October.
Both Orton and Blanchard are children of wrestling legends and have been regarded as the hopeful promise of new eras in the industry. The Ringer even labeled Blanchard "the Future of Pro Wrestling" in a recent profile, highlighting her promise and potential. But with a next generation comes a next step, and while Blanchard becoming Impact! Wrestling's first woman world champion is definitely one major step forward, it came amid a major stumble that reminded fans that we aren't there yet. "It saddens me that racism, envy, and bad things exist in sports," La Rosa said after the Blanchard allegations came to light. "It is always there. As adults, when something bad happens, we can resolve things by talking. There's always a solution."
CyberAgent Buys Pro Wrestling NOAH
What Happened?
After the WWE reportedly tried to purchase NOAH last year, CyberAgent (the parent company for Japan-based DDT Pro-Wrestling) jumped in to take over the Japanese wrestling company in late January. While DDT president Noritaka Takagi (who's also now taking over as the acting president of NOAH) made it clear in a press conference Tuesday night that the companies aren't merging and will still maintain their own identities, he didn't rule out sharing talent and also mentioned a long-term goal of running shows at the Tokyo Dome—where only New Japan Pro-Wrestling has run shows in recent years. "Saving Noah will lead to further development of the industry," Takagi said. "A partnership between Noah and DDT, could offer a new perspective."
Why Does it Matter?
It matters on a handful of potential fronts, the two biggest being that the WWE failed (again) to purchase a bedrock Japanese company to use as its feeder for the planned NXT Japan brand and also that NJPW might now have a David vs. Goliath situation brewing much like the WWE has with AEW in the United States. NJPW has been Japan's clear No. 1 promotion in recent decades, but a partnership between two mid-tier promotions isn't a fly NJPW can just swat away that easily.
For wrestling fans, as Emily Pratt explains, CyberAgent buying NOAH also means the promotion's shows are also more accessible for international viewers. NOAH will reportedly broadcast shows on the DDT Universe platform "once or twice" per month, while on-demand content will be readily available. The move lends international wrestling fans more options, which has been the biggest shift in the business of pro wrestling over the past half decade since the launch of the WWE Network. Yes, there might be too much wrestling to watch, but there's never enough to choose from and this deal could mean the beginning of another Japanese brand making noise at home while also pushing west.