Another month of wrestling has come and gone. Did you see all of it? Of course you didn't, unless you're like…some kind of time-bending super entity who has for some reason decided to use your powers to keep up with professional wrestling. Fanfyte checked in with our smartest experts on a few gems you might have missed.
Mayu Iwatani vs. Takumi Iroha at Stardom "The Way To Major League" (2/8/20)
(Watch on Stardom World)
The main event of Stardom's February 8 show at Korakuen Hall was an inter-promotional non-title match between World of Stardom Champion Mayu Iwatani and Marvelous's Takumi Iroha, and it absolutely kicked ass. It starts strong and gets more fun as it goes along, with a wide variety of great-looking kicks and at one point a truly insane suplex from Iroha to a limp Iwatani. There's also a neat through-line of both women trying to use the Running Three, the finishing move of Iroha's mentor, Chigusa Nagayo, that's made even better by a shot of Nagayo in the audience. Overall, Takumi vs. Mayu is really good work by two performers whose wrestling it makes me happy to even think about, and it's a worthwhile watch for any wrestling fan.—Emily Pratt
More Pro Wrestling:
Kento Miyahara vs. Yuma Aoyagi at AJPW Excite Series Night 1 (2/11/20)
(Watch on AJPW.TV)
Have you seen Kento Miyahara? He's handsome as hell, super charismatic and can wrestle his ass off. That last one is especially important to this match, because he had defended All Japan's coveted Triple Crown Title successfully 9 times coming into this match. Yuma Aoyagi had turned on Miyahara, his former tag partner in Nextream, attacking him after Miyahara successfully defeated Jake Lee at All Japan's January 3rd show. Miyahara then agreed to face Aoyagi as his 10th opponent at this Korakuen Hall show a month later. This match showed Aoyagi as a budding rival to Miyahara. Aoyagi brought out Miyahara's anger, by matching him move for move and trick for trick, and then attempted to neutralize Miyahara's big finisher, the Shutdown German suplex, by repeatedly targeting Miyahara's right arm. The more fired up Miyahara got, the more Aoyagi egged him on. Aoyagi got in Miyahara's face, asking for more after a nasty running kick in the corner, which Miyahara immediately obliged with a headbutt. Aoyagi even managed to counter Miyahara's Shutdown German into his own German suplex, and later made a pinfall attempt with his own Rockstar Buster finisher. Avid followers of All Japan suspected that this wouldn't be the match to end Miyahara's reign since the feud was so freshly built, and Miyahara did eventually hit his Shutdown German successfully for the win. Still, this match showed Aoyagi as a strong contender for the Triple Crown title. It also hinted that in a future matchup between the two, Miyahara may not be so lucky. He will, however, still be handsome.—Nigel Spudes
Pom Harajuku vs Yuka Sakazaki in a Valentine Death Match at Tokyo Joshi Pro Universe Members Show (2/16/20)
(Watch on DDT Universe)
If you're anything like me, then you spent this past Valentine's Day by yourself with your best friends Sonic the Hedgehog and professional wrestling. Luckily, TJPW had me covered with a special DDT Universe Members Only show that featured a stellar No Time Limit Best of Three Falls Valentine Deathmatch between Yuka Sakazaki and Pom Harujuku. So admittedly there's not a lot of wrestling in this one but you do get stellar outfits from both competitors and challenges such as the audience voting on which of the two competitors made the best chocolate and guessing which of the Up Up Girls ate a wasabi-filled cream puff. I definitely recommend the entire show which includes other gems like a tag match with everyone dressing as competitor Tenma Nodoka's old kid's show host gimmick. But if you only have time for one extended bit then the Three Falls Valentine Deathmatch is definitely a reminder of how good DDT/TJPW is at making fans overseas eager to get a ticket and watch live. If anyone's seeing them in Tampa DM me about the Maki merch.—Maverick
Rocky Santana, Mr. Condor & El Gallego vs Tóxico, Dement Xtrem & Último Gladiador at Producciones AVE (2/23/20)
(Watch on Stars of the Ring on YouTube, or embedded above.)
Listen, I can wax poetic for 250 words or so about watching old men bleed, but I want to comment on the cinematography here. This is less a wrestling match and more a video you'd find on Worldstar or something. Watching this match feels like the watching that one video of the street fight where the guy hits the other dude with a shoot powerbomb and then the camera pans out and there is just some other rando standing there with a honest to goodness machete. Anyway this whole thing is incredible. Mr. Condor, who has been wrestling since the 70s and lost his mask to Rey Misterio Jr in 1992 (!) bleeds an unholy amount. It's honestly repulsive. Rocky Santana, who has been wrestling since the late 60s and now looks like a Mexican Ronnie James Dio, also bleeds. The world famous Coacalco dog makes an appearance. A woman in the front row seemingly runs for her life as people brawl next to her. One of these days I'll recommend a good match on here, I swear.
Actually, fuck that. What does good even mean? This match rips. Last year at Wrestlemania, I discovered that there is a type of wrestling fan that is catered to at this point, and that is the fan that wants to say the names of Will Ospreay moves while watching Will Ospreay do those moves. Will that fan like this match? Nah. Not enough Stormbreakers. But fuck that fan. This match is better than every single Will Ospreay match put together.—JR Goldberg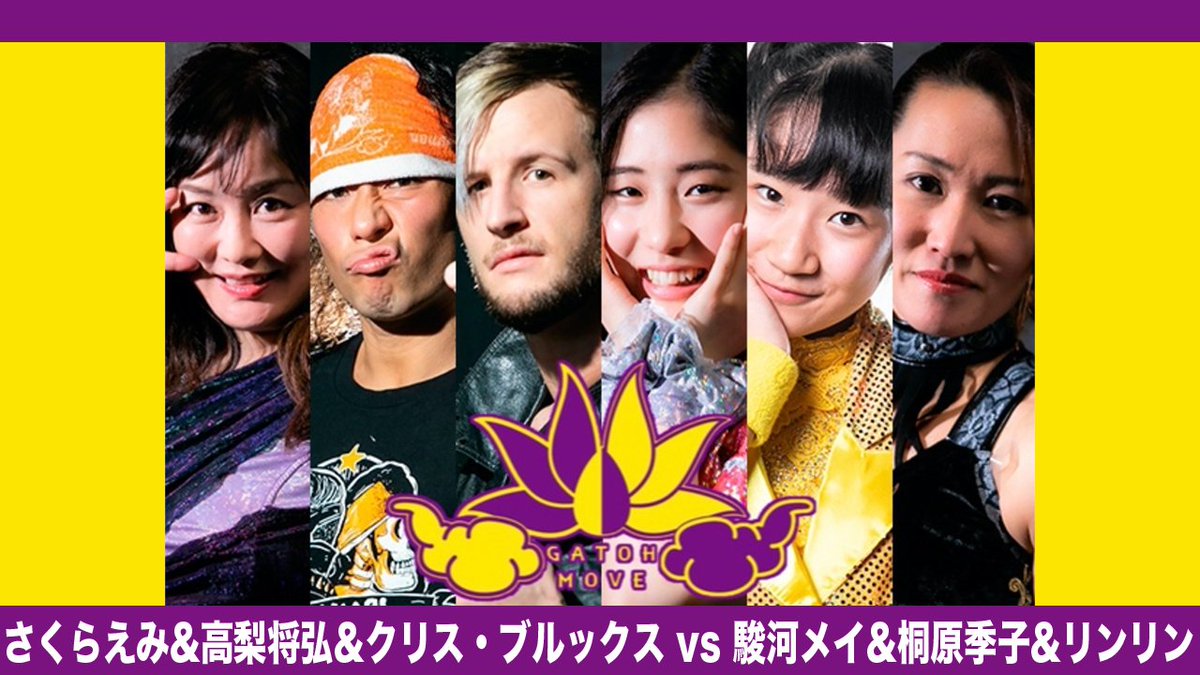 Emi Sakura, Masahiro Takanashi & Chris Brookes vs Mei Suruga, Tokiko Kirihara & RinRin at Gatoh Move (2/23/20)
(Watch on DDT Universe)
It was an utter delight to see a newer member of the Gatoh Move family — one whose humor and technical prowess have left such an impression in their short time with the promotion — make a triumphant return in this match. And it was great to see Chris Brookes back, too! This six person tag contains many of the hallmarks of the Gatohverse that I've come to love: a deceptively fluid mix of expert slapstick and serious wrestling skill, clever and innovative sequences, and phenom Mei Suruga using the Ichigaya Chocolate Square space like a musical prodigy plays a Stradivarius. It also has charms unique to this particular match, including but not limited to the way the veterans vs relative rookies dynamic descends into the kind of antics you'd expect from parents crashing a house party. Most importantly, though, it features RinRin. The wrestler, aspiring idol, and Marilyn Manson fan has been off for the past couple of months in order to focus on school (she's in junior high) but there was no hint of mat rust here. Her comic timing is as sharp as ever, her submission wrestling games keeps getting slicker, and her potential as a future star remains limitless. Plus she might be even more entertaining/terrifying with Mei than she is against her.—Sarah Kurchak